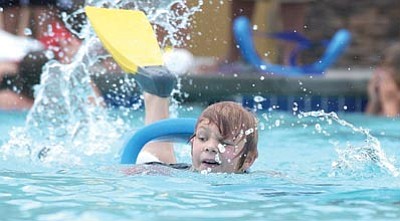 The Daily Courier/file photo
Chance West keeps an eye on his opponents and kicks hard in the Wacky Water Olympics Water Gear Relay at the Chino Valley Aquatic Center.

Stories this photo appears in: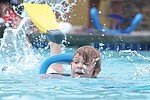 Residents of Chino Valley packed the Aquatic Center over the Memorial Day weekend, and Dean Smith, Parks and Recreation's aquatics specialist, expects it to be packed again over the Fourth of July weekend."We are averaging 400-425 swimmers a day," he said. "Our capacity is 457. We also are seeing more adults and seniors this year."
By Jerry Herrmann
June 11, 2010