Brett Soldwedel/The Daily CourierKen Foote is the owner of FooteWork, which has three locations that process auto licenses and titles.
Stories this photo appears in: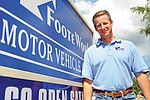 Q & A with Ken Foote, owner of FooteWork Auto License & Title Service. FooteWork currently has three locations: at 201 Grove Ave. in Prescott, 771-9015; 6520 E. 2nd St. in Prescott Valley, 759-8575; and in Williams, (928) 635-2006. Business hours are 8 a.m. to 5 p.m. weekdays and 9 a.m. to noon Saturdays.