Brett Soldwedel/The Daily Courier
Jeff Ogg opened Ogg's Hogan Native American arts and crafts store in Prescott in 1998. His grandparents opened the original Ogg's Hogan in Wickenburg in 1949.
Stories this photo appears in: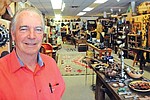 Q & A with Jeff Ogg, owner of Ogg's Hogan at 111 N. Cortez St. in Prescott. The store is open from 10 a.m. to 5:30 p.m. Mondays through Saturdays and from 11 a.m. to 4 p.m. Sundays. 443-9856.