Salina Sialega/Special to the CourierGail Sime, right, and Ellen Plaugher prepare a strawberry plant for transplanting for the Harvest 10 food program.
Stories this photo appears in: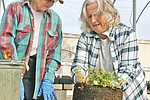 A group of Southern Baptists, through the Harvest program in 2008, grew and gave hungry Chino Valley-area residents about four tons of vegetables. Ed Albus, Harvest program coordinator, said the group hopes to raise and give away 12 tons of vegetables this year to the area's hungry.