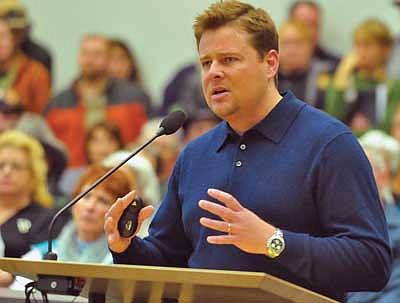 Matt Hinshaw/The Daily CourierJim Rounds Senior Economist with Elliot D. Pollack and Co. presented his companies findings to the Prescott Valley City Council on the economic impact a private prison would have on the town January 28 during a Town Council meeting in Prescott Valley. Corrections Corporation of America is no longer considering land in PV for a prison because of opposition from the Town Council.
Stories this photo appears in: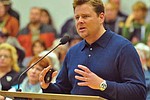 Corrections Corporation of America has scuttled plans to consider land off Fain Road for a private prison because the company lacks support from the Town Council, a spokeswoman said Tuesday."This is to provide you with formal notice that Corrections Corporation of America (CCA) has terminated our site selection activities in Prescott Valley," the company wrote Tuesday.