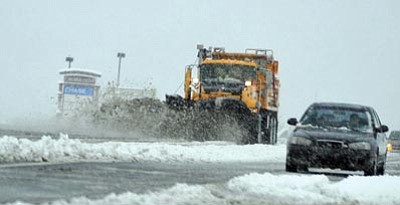 Les Stukenberg/The Daily Courier, file photo
An ADOT snowplow clears Highway 69 as rain mixed with overnight snow in Prescott Valley on Jan. 21.
Stories this photo appears in:

El Niño drove a record storm system through Yavapai County and much of Arizona in mid-January. Storm flooding took the life of 6-year-old Jacob Baudek when waters swept him away after his parents tried to drive across floodwaters near Mayer and got stuck. They were trying to get the sick boy to a hospital. Despite widespread flooding, he was the only fatality. ...