Les Stukenberg/The Daily CourierStudents arrange themselves by birthday as Bradshaw Mountain High School introduced freshman to high school through the use of Links Crews, in which juniors and seniors are trained to serve as role models for the freshman.
On Friday, the freshman attended a regular day of school for orientation and to meet their upperclassmen Link leaders. Students also had a chance to meet faculty, receive class schedules and have a BBQ.

Stories this photo appears in: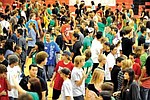 Junior and senior students at Bradshaw Mountain High School Friday took members of the Class of 2014 under their wings to help make the transition from middle school to high school a little easier.Ninety upperclassman volunteers spent two days in leadership training as part of the Links Leadership program.