The Daily Courier/file
Local school districts' budgets are tight and getting tighter. Administrators have crunched the numbers and, if Prop. 100 fails next month, educational art programs will be among the cuts.

Stories this photo appears in: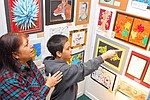 Local school districts are making drastic cuts to their 2010-11 school year budgets. A decrease in money from the state, the elimination of state-paid all-day kindergarten and increases in state retirement contributions and health insurance premiums have school officials tightening their belts for the second year in a row.How tightly school districts pull that belt will depend on whether Arizona voters approve Proposition 100 on May 18.