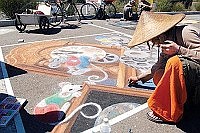 The Daily Courier/file photo
Stories this photo appears in:
The second annual Chalk It Up! Chalk Festival returns to Prescott at 10 a.m. April 17 and 18 at Summit Bank parking lot, 201 N. Montezuma St., Prescott. The event is free and pre-registration is not required, unless an artist wants to reserve a space larger than a 4-foot square.