Former U.S. Senator John Edwards, California Assemblyman Mike Duvall, tennis superstar Serena Williams and Rapper Kanye West are just a few of the celebrated Americans who were in the news this month for being unfaithful, rude or abhorrently disrespectful. (AP photos)
Stories this photo appears in: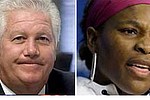 When I was a child my mother used to encourage me by telling me I might someday be the President of the United States, a U.S. Senator, an astronaut, or a famous musician or actor. She had a wonderful way of helping my brothers and me dream big.
By By Richard Haddad
September 22, 2009