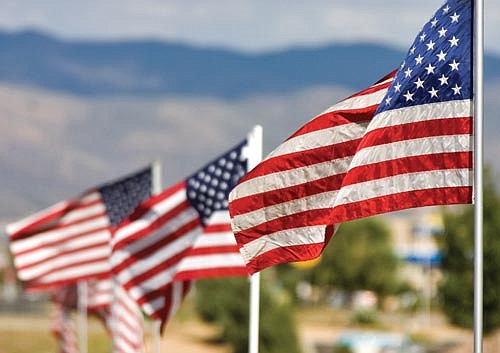 Matt Hinshaw/The Daily Courier
American flags lining Highway 69 in Prescott Valley flap in the wind Monday afternoon. The American Legion Post 108 and VFW Post 10227 flag crews put up the flags in remembrance of Labor Day, one of the 12 days each year they provide the service.
Stories this photo appears in: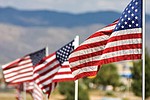 The Prescott Tea Party will play host to a "Memorial for America" from 6:30 to 8:30 p.m. Friday, Sept. 11, on the steps of the county courthouse.The memorial is a celebration and tribute to all who have served the United States and the cause of freedom.The memorial is one of several local events on the eighth anniversary of Sept. 11, 2001, terrorist attacks that killed 2,974 people, with an additional 24 listed as missing.