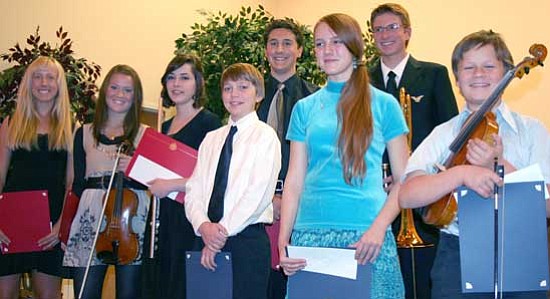 Sue Tone/CourtesyTop winners of the Yavapai Symphony Guild's Young Musicians' Scholarship Competition will perform free to the public at 7 p.m. Sunday, Nov. 15, at the Prescott Adult Center, 1280 E. Rosser Street. The YSG gave out a total of $13,600 to 28 students this year. From left are Lexi Rindone, 16, Senior Piano; Tiffany Weiss, 17, Senior Strings; Hannah Henry, 18, Senior Brass/Woodwind; Timothy de Laveaga, 14, Junior Voice; James Grandjean, 18, Senior Voice; Anna Flurry, 13, Junior Piano; Aleix Koster, 14, Junior Brass/Woodwind; and Johan Glidden, 11, Junior Strings.
Stories this photo appears in: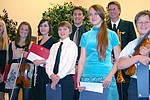 Eight young virtuosos who starred in the Yavapai Symphony Guild's annual scholarship competition will perform at 7 p.m. Sunday at the Rowle P. Simmons Community Center in Prescott.
By The Daily Courier
November 12, 2009