Carol Powell/Courtesy photo
Anna Miller, left, is photographed just weeks before her unexpected death in 1918 to the flu epidemic. Also pictured are Anna's two young daughters, Clara and Pearl (in matching coats), and her sister and her children.
Stories this photo appears in: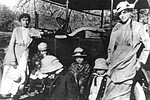 In 1918 children would skip rope to the rhyme:I had a little bird,Its name was Enza.I opened the window,And in-flu-enza.
By By CAROL POWELL
May 16, 2009