Courtesy
Fiona Jackson shares her grandfather's talent for witty writing. (No, Jerry did not provide this caption.)
Stories this photo appears in: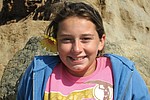 Wife Pat and I have this granddaughter in San Diego, Fiona Jackson, who is cute as a bug, sharp as a tack, and friendly as a huntin' dog. She shared with us a copy of "The Fred Chronicles," a trilogy of essays that Fiona composed last year.