Ken Lain/Courtesy photo
Want hassle-free landscaping? Consider the Garden Guy's six cardinal principles.
Stories this photo appears in: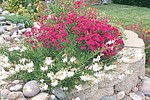 Wouldn't it be wonderful if you could enjoy an attractive, colorful garden without spending all of your free time working at it? Well, it can be done; all it takes is some knowledge about the right plants and the right techniques. Do your research for the best easy-care trees, shrubs and perennials before you plant and you'll save time and money years into the future of your landscape.