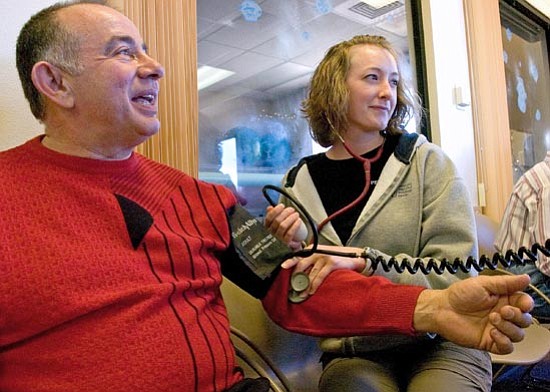 Matt Hinshaw/The Daily CourierSheila Brawn, an exercise Physiologist at Del E Webb Outpatient Center, takes Chuck Apap's blood pressure on Friday. "He's been very dedicated and very motivated to make the lifestyle changes that he's needed to," she said.
Stories this photo appears in:

Chuck Apap, veteran high school football coach and heart surgery survivor, compares victory on the gridiron to that of a fleeting butterfly."If you leave it alone, it will land on your shoulder," the Bradshaw Mountain High School football coach says in a warm, sincere voice. "But if you chase it, it will fly away. It's just like I tell my players, if you do all the things that are right, that butterfly's going to land and we're all going to enjoy it."