Prescott Art Docent Iyone Meyer pulls out one of 600 mounted posters in the PAD office in this Tribune file photo. The docents can draw upon the art posters, 1,000 art books and digital presentations when making their presentations to schools and groups.
Trib Photo/Sue Tone
Stories this photo appears in: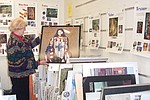 Nancy and Dick Shugrue fell for art about a year ago, and after nine months of training, are now bona fide Prescott Art Docents.The Prescott Valley residents are part of the 2009 graduates who are hosting the Art Docents' "Fall for Art" Invitational at 10 a.m., Monday, Aug. 24, at the Prescott Fine Arts Association.
By Sue Tone
August 19, 2009