The World Health Organization (WHO) recently ruled tanning beds as "carcinogenic to humans" and should be avoided because studies show that the risk of melanoma increased up to 75 percent in those who start using tanning beds before the age of 30.
Stories this photo appears in: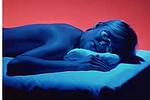 In March of 2005 I received a phone call from my Dermatologist Dr. Keith Mackenzie. What made this phone call especially unusual was that he was calling me personally, something that he had never done before. Usually one of his nurses called me to either tell me that my biopsies were normal or that I needed to come back in for further treatment because the pathologist determined that I had basal or squamous cell carcinoma. I knew right away that something was different. "It's melanoma" he said.
By Pamela Liuzzo
August 6, 2009