The Daily Courier/Jo. L. Keener
A miniature train rumbles through an authentic reproduction of Flagstaff Friday morning during a model railroad show at the Yavapai County Fairgrounds.
Stories this photo appears in: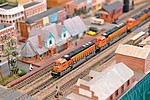 PRESCOTT VALLEY - Larry Davis has been "on track" since the age of 4 or 5 when his grandfather, Charles Snyder, introduced him to the iron horse.Davis, 60, of Prescott Valley recalls Snyder taking him within 4 feet of the railroad tracks of the former Pennsylvania Railroad in Corydon, Pa."I was kind of scared a little bit," Davis said Friday morning at the All Aboard Model Train and Airplane Show at the Yavapai County Fairgrounds. "I never saw anything as big in my life."