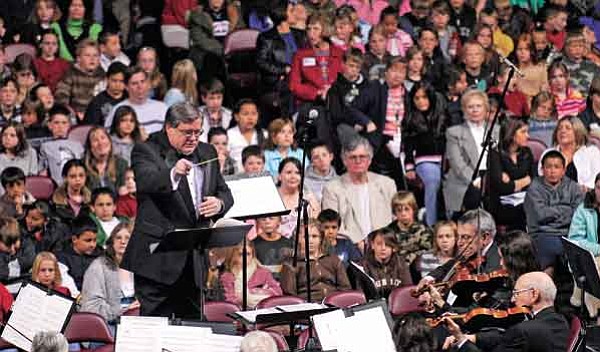 The Daily Courier/Jo. L. Keener
Director Paul Manz conducts the Prescott Pops Symphony Orchestra at Tim's Toyota Center Wednesday morning. The concert, sponsored by The Daily Courier, had 3,500 area children from Yavapai County schools in attendance.
Stories this photo appears in: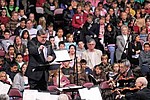 Packing 3,500 kids into Tim's Toyota Center for a classical music concert on a weekday morning might sound like a challenge.Wednesday's concert for Yavapai County grade school students went off without a hitch, however, and the kids' enthusiastic reception of the music topped off an endeavor organizers say was more than a year in the making."You may not know, but you are making history together," Yavapai Symphony Guild President Carol Friedman said at the start of the concert.