Courtesy
Peg Rhodes ate the Brooklyn Bridge – or at least a facsimile of it – on a recent trip to New York City.

Stories this photo appears in: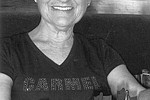 My goal: to find a café that was reviewed by Rachel Ray. I didn't know the name or where it was, except that it was somewhere under the Brooklyn Bridge.
By By PEG RHODES
July 4, 2008