The Daily Courier/Nathaniel Kastelic
Prescott Mayor Rowle Simmons leads a group of bikers south on Arizona Avenue to City Hall during the annual Bike to Work with Mayor Simmons in Prescott May 18, 2007.
Stories this photo appears in: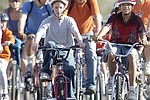 Kimberly Sylvester of Prescott Valley went bicycle riding with her 11-year-old daughter one day this past autumn. Her daughter pushed the signal button at the intersection of Robert Road and Highway 69 and waited for the crosswalk signal to say it was OK to cross. Sylvester's daughter crossed first on her bicycle. But while Sylvester followed, a driver turning right onto Highway 69 hit her.