Courtesy Photo/Stephen Tucker
Point of Rocks today on the Peavine Trail leaves no indication of the former Entro train depot.
Stories this photo appears in: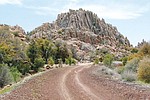 Mining interests were the primary reason the Santa Fe Prescott and Phoenix Railway owners built the line through Central Arizona. "Mining died out pretty quickly. But the ranchers found that the railroad was good for livestock transportation," said Stephen Tucker, member of the Central Arizona Model Railroad Club.
By Sue Tone
January 27, 2008