Courtesy File Photo
Musician Mel Zelnick played with music-greats Benny Goodman, Ray Charles and Peggy Lee, among others. He died Feb. 21 in Mayer.
Stories this photo appears in: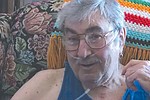 Mel Zelnick, a drummer who gained notoriety as a band member of jazz icon Benny Goodman in the 1950s and later as a touring recording artist for Capitol Records, died Thursday morning of a heart attack. He was 83. Zelnick died in his home in Mayer.