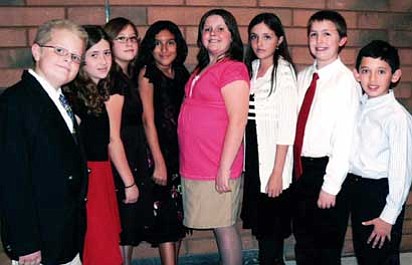 Courtesy photo
The Territorial Elementary School Choir performed Nov. 15 at the 4th Annual Cantaremos State Honor Choirs Festival at Gilbert High School, from left, Ammon Worden, Hayley Feipel, Abigail Presnall, Caitlyn Line, Montana Williams, Shelby McCully, Taylor Wade and Cole Dreischer. Jean Dueppen is the TES choir director who nominated the singers for positions in the four honor choirs and selections were made by a taped audition.
Stories this photo appears in: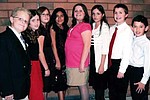 For the fourth straight year, a select group of fifth graders at Territorial Elementary School got to sing in the Cantaremos Fifth and Sixth Grade Honor Choir before 1,200 people in the Gilbert High School Auditorium."You get to meet new people and learn lots of things about voice," said Savannah Coffin, an eighth-grader from Heritage Middle School, who sang in this year's Cantaremos Seventh and Eighth Grade Girls Honor Choir. She has now sung in three state honor choirs.
By By Jerry J. Herrmann
December 9, 2008