Les Stukenberg/The Daily Courier
Eight-year-old Bailey Thibeault looks at the small refrigerator that apparently caused a fire in a stall of a barn at Yavapai Downs on Tuesday night. Thibeault, who was on scene when the fire was being put out, said the scariest part for him was when a running horse tried to stop and flipped over a gate. He added that he thought the horse was OK.
Stories this photo appears in: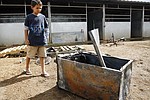 PRESCOTT VALLEY - An electrical fire burned several barn stalls and spooked a number of horses Tuesday evening at the Yavapai County Fairgrounds.Several horses trotted away after people opened stalls that housed about 16 horses, and some horses sustained injuries, witnesses on the scene said Wednesday morning.