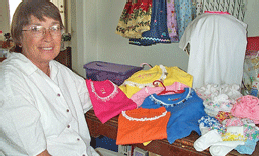 Kathy Casey shows off some of her pretty beaded shirts and socks.
Review/Diane DeHamer
Stories this photo appears in: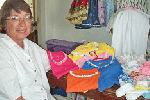 Crafters and artists will be in full swing on Saturday for the Fall Festival in Paulden again this year from 9 a.m.-4 p.m. at the Paulden fire station of Highway 89 at Midway Drive in Paulden (at the Depot 89 gas station and store). The festival will include crafts and art sale, a bake sale, a cupcake and cookie bake-off and a farmer's market. For more information, contact Kathi Dore at 636-0614.
By By Diane DeHamer
September 26, 2007