Compacted tailings dominate the foreground with the Town of Dewey-Humboldt in the background at the Iron King Mine in Humboldt.
The Daily Courier file/
Jo. L. Keener
Stories this photo appears in: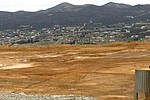 DEWEY-HUMBOLDT - Governor Janet Napolitano told the Environmental Protection Agency Thursday she wants the feds to pursue privately financed cleanup options for the Iron King Mine and smelter sites in Humboldt before the state commits to a Superfund listing.