Trib Photo/Sue Tone
Charlee Towles, 15, gave up her voice for one day Tuesday at Bradshaw Mountain High School in support of the student-led pro-life protest called Silent Day. More than 200 students joined her in wearing red armbands for the cause.
Stories this photo appears in: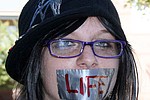 The Bradshaw Mountain High School sophomore felt strongly about her support for the pro-life movement so she petitioned the principal for the right not to speak for one day. Charlee Towles, 15, collected more than 200 signatures on petitions she gave BMHS Principal Jim Souder requesting permission for students to wear tape across their mouths and not speak for one day.
By Sue Tone
October 23, 2007