The Daily Courier/Jo. L. Keener
Stories this photo appears in: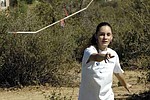 PRESCOTT - A plane flies low over the ground, coasting beautifully over green grass with a graceful arc. Then, disaster strikes. The plane veers toward the ground. A wing snaps off and the plane rolls end over end before coming to rest as a piled of splintered wreckage.It's a small setback. The student picks the plane up, brushes off the dirt and starts rebuilding. Making mistakes is just another part of the learning process for the teens participating in the Great American Aero Derby program.