Courtesy/U.S. Fish and Wildlife Service – The condor is the largest flying bird in North America. Adult birds can weigh as much as 26 pounds with a wingspan of up to 9.5 feet. Sixty-nine condors, including 59 in the wild and 10 awaiting release, live in Arizona.
Stories this photo appears in: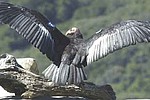 Within the past six weeks, Arizona Game and Fish Department officials confirmed endangered captive-bred California condors produced a chick at Vermilion Cliffs National Monument in northern Arizona near the state's border with Utah.
By Special to the Courier
August 9, 2007