RhythMotion Dance Company performs ³Nicest Kid in Town² March 14 at Disneyland in Anaheim, Calif. The routine is the finale in a 30-minute show the 20 members of the dance company from The Dance Studio in Prescott put on during two performances at the Disney theme parks March 13 and 14.
Courtesy photo
Stories this photo appears in: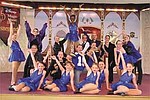 PRESCOTT ­ Twenty local dancers March 13 and 14 performed at Disney amusement parks in Anaheim, Calif., receiving the celebrity treatment and showing off Prescott's talent.
By By HILARY DARTT The Daily Courier
March 29, 2006