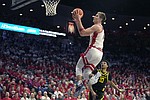 Azuolas Tubelis took his family and friends from Lithuania to breakfast in the morning, then to see the desert surrounding Tucson.
By JOHN MARSHALL, AP Sports Writer
February 3, 2023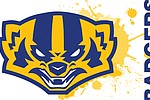 Prescott boys basketball had no problems scoring the basketball against Mingus Wednesday night, Feb. 1. However, it wasn't until the second half that they found themselves defensively and truly secured the road region victory 67-40.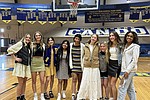 On Wednesday, Feb. 1, the Prescott girls basketball team put it all out there, but came up a little short to Mingus 49-45.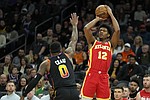 Trae Young rose up for a 3-pointer in the second half that left his hands way too hard, hurtling toward the basket before slamming off the backboard and through the hoop.
By DAVID BRANDT, AP Sports Writer
February 2, 2023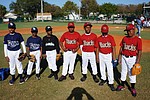 On Opening Day in 1947, droves of fans trekked to Ebbets Field in Brooklyn to see a 28-year-old take the plate in a historic moment for Major League Baseball.
By LAUREN HERTZ AND SAM STERN, Cronkite News
February 2, 2023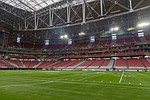 From fresh green grass to brand new turf, playing surfaces have been at the forefront of NFL headlines this season, and with all eyes on the biggest game of the year, State Farm Stadium workers have the task of making the field pleasing to viewers while also keeping the players safe.
By BENNETT SILVIN, Cronkite News
February 2, 2023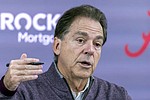 Southeastern Conference schools continue to rule over the recruiting trail, almost as thoroughly as they dominate on the field.
By STEVE MEGARGEE, AP Sports Writer
February 2, 2023
Jair Montoya Castro, team captain and attacking midfielder for the Bradshaw Mountain boys soccer team, was chosen as The Daily Courier's Athlete of the Week for the week of Monday, Jan. 23 to Saturday, Jan. 28.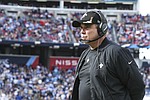 The Denver Broncos have agreed to a deal with the New Orleans Saints that will make Sean Payton their head coach, a person with knowledge of the accord said Tuesday.
By ARNIE STAPLETON, AP Pro Football Writer
February 1, 2023
This time, Tom Brady says he's done for good.
By FRED GOODALL, AP Sports Writer
February 1, 2023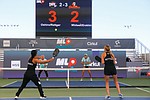 Pickleball has taken the country by storm and its surging popularity has attracted the attention of some of the biggest stars in sports.
By AARON SCHMIDT, Cronkite News
February 1, 2023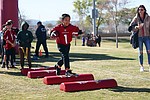 The National Football League's environmental program, NFL Green, has left a lasting impact in the Phoenix area in the lead-up to this year's Super Bowl.
By NICHOLAS HODELL, Cronkite News
February 1, 2023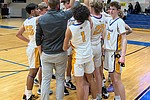 The Prescott boys basketball team were in a close battle early in their game against Flagstaff on Monday, Jan. 30, but exploded in the second half to earn big 79-34 victory.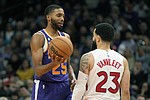 Deandre Ayton had to do a double-take in the final minutes as his Phoenix Suns pulled away for another win.
By DAVID BRANDT, AP Sports Writer
January 31, 2023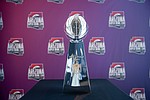 If history means anything, the city of Glendale is in for a wild ride when the Super Bowl returns to Arizona in February.
By JOE EIGO, Cronkite News
January 31, 2023