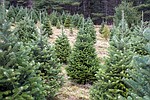 Christmas tree permits for the Prescott National Forest will be available for purchase starting on Oct. 12. This season 700 permits will be available to purchase online through Recreation.gov.
Spectrum Healthcare Group is thrilled to announce its latest expansion into Prescott Valley with the opening of its newly renovated facility located at 3274 Bob Dr.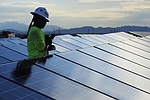 A coalition of labor unions and liberal political groups is hoping to get Arizona voters to rethink a 77-year old decision to make Arizona a "right to work" state.
By HOWARD FISCHER, For the Courier
September 26, 2023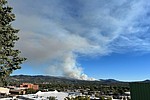 Seen from atop the Arizona Pioneer Home Cemetery off Iron Springs Road, a plume of smoke from the prescribed burning in the Prescott National Forest rises above the City of Prescott on Tuesday, Sept. 26.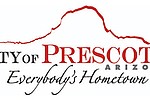 The City of Prescott will be phasing in an update to its water meter-reading infrastructure and customer information systems over the next six years.
By DEBRA WINTERS, The Daily Courier
September 26, 2023
Sun shadows, chirping birds and a slight breeze through the trees was a perfect backdrop to talk about the importance of connecting with nature and the outdoors — not just for the young but for all ages.
By NANCI HUTSON, The Daily Courier
September 26, 2023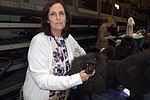 Rebecca Meintel, a San Tan Valley resident, brought her miniature poodle, Indy, to compete at the Prescott Area Kennel Club Dog Show on Saturday, Sept. 23, 2023.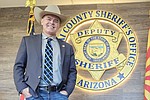 The Arizona Game and Fish Commission (AZGF) has announced its 16 recipients of the 2023 commission awards and Yavapai County Sheriff David Rhodes is receiving the Award of Excellence.
By DEBRA WINTERS, Prescott Valley Tribune
September 26, 2023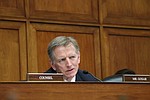 Two years after he was formally censured for a video that appeared to espouse violence against lawmakers, Arizona Rep. Paul Gosar has again grabbed headlines by saying the chairman of the Joint Chiefs of Staff would be hanged in a "better society."
By ADRIENNE WASHINGTON, Cronkite News
September 26, 2023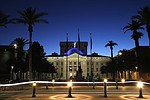 Social media users are falsely claiming that Arizona's governor has been "indicted" by local lawmakers. Here are the facts:
By PHILIP MARCELO, Associated Press
September 26, 2023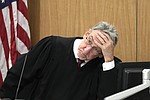 The trial in a lawsuit brought by Kari Lake, the defeated Arizona Republican nominee for governor, to get access to 1.3 million voters' signed ballot envelopes is now in the hands of a judge after wrapping up midday Monday.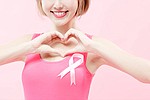 The Daily Courier will be observing October Breast Cancer Awareness Month with its annual "pink" pages, and we need the community's help to raise awareness and education about breast care.
Officials on the Prescott National Forest will extend the camping and motor vehicle-use closure for the area near Perkinsville Bridge on the Chino Valley Ranger District through Oct. 3, 2025.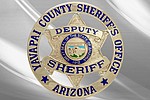 On the afternoon of Friday, Sept. 22, Yavapai County Sheriff's Office (YCSO) deputies responded to a call from state livestock agents to assist with serving and executing a search warrant at a farm on North Mohawk Lane in Paulden.
Hundreds of people came out to the two-day event this past weekend.
Prev Next