How $200 made my Spirit, Frontier flights better than top airlines
Daniel Kline
Originally Published: September 30, 2023 1:02 p.m.
When you book a seat on Spirit Airlines or Frontier Airlines, you know what you're getting: Both offer no-frills fares where you pay for every single thing beyond your right to get on the plane.
A Spirit (SAVE) - Get Free Report or Frontier ticket is the base product, designed to make air travel as affordable as possible. On top of that initial outlay, customers can pay extra for carry-on bags (only a small personal item like a purse is included in the base fare); checked bags, and their choice of seat (otherwise seats are assigned at the gate).
DON'T MISS: American And Southwest Airlines face a major strike risk
You can also pay for perks like exit-row seats, earlier boarding, and express lines at certain airports. In addition, Spirit and Frontier (ULCC) - Get Free Report charge extra for everything. If you want a drink or a snack onboard, it'll cost you.
That's very different from how discount airlines like Southwest  (LUV) - Get Free Report and JetBlue operate. Southwest does not charge for baggage and uses a select-your-own-seat policy, while JetBlue  (JBLU) - Get Free Report has tiers that include checked bags, offers seat assignments as part of all fares, and does not charge for carry-on bags.
All the major airlines, including Delta, American, and United, include seat assignments (and generally baggage) unless passengers are buying a basic economy fare.
It's all a little confusing since every airline does it a little differently. But there's an easy way to turn your experience on the super-discount carriers, Spirit and Frontier, into something that's arguably better than flying Southwest, JetBlue, Delta, United or American.
The Arena Media Brands, LLC and respective content providers to this website may receive compensation for some links to products and services on this website.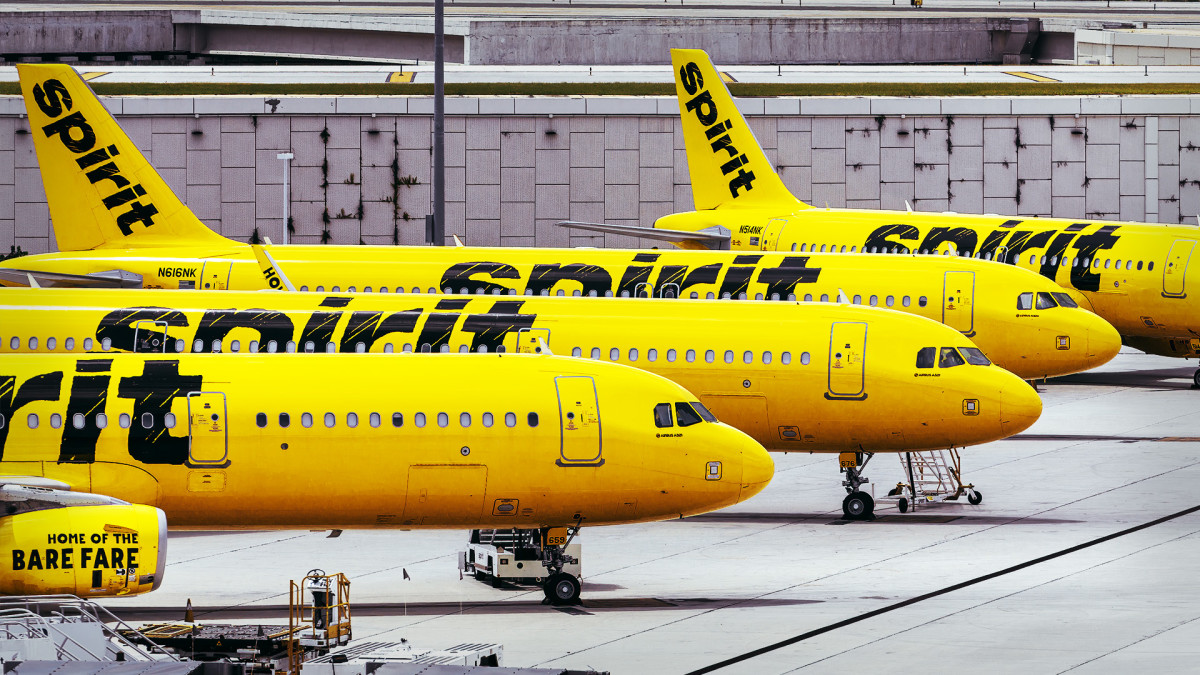 Here's what elite status on Spirit and Frontier gets
In most cases, airline loyalty programs come with a lot of perks. You might qualify for upgrades, get free internet, or see your baggage charges waived. 
WANT TO BE TREATED LIKE AN ELITE TRAVELLER? Let our travel agent partners book your next trip.
Both Spirit Airlines and Frontier Airlines give their higher-tiered loyalty customers perks that include seat assignments, priority boarding, free carry-ons, free checked luggage (for top-tier members), and others. If you earn Spirit's top-tier Gold Status or Frontier's second-highest tier, Elite 50K, your experience on those airlines changes dramatically.   
As a Gold member on Spirit, I pay the basic fare — almost always a sharply lower number than what any other airline charges as a regular nonbasic-economy fare — and get a seat assignment, a free exit-row seat if it's available, priority boarding, a priority security line in some airports, as well as a free carry-on and checked bag.
I also get a free drink and snack onboard. My Frontier Elite 50K status does not get me a drink and snack or a checked bag, but I get a seat assignment, access to extra-legroom seats, a carry-on bag, and priority access. 
How I got elite status on Spirit and Frontier
In both cases, I used a special promotion, where both airlines offered to match status with other travel loyalty programs. For Spirit, I believe I used my top status at a major hotel brand, which I was actually awarded through my American Express Platinum card.
In Frontier's case, I tried to use my Spirit Gold status for my match, but since the same company verifies the upgrade program for both airlines, I was rejected because my status was purchased, not earned. But — Frontier accepts cruise-line loyalty programs and my Diamond+ status on Royal Caribbean earned me Frontier's Elite 50K level.
Both companies accepted matches from a long list of rivals as well as cruise lines and casinos.
READY TO GO AWAY? Let our expert travel team help you get the best deal possible.
In each case I paid $100 for the upgrade, which took about 48 hours to become active. In the case of the Spirit program, the offer I used is not currently active (although it pops up from time to time throughout the year). Frontier's offer was currently active at the time this was written, although that could change at any time. 
Both purchases grant me my new status level for 12 months from when I was first awarded the status.
Receive full access to real-time market analysis along with stock, commodities, and options trading recommendations. Sign up for Real Money Pro now.
---
Sign up for our e-News Alerts
SUBMIT FEEDBACK
Click Below to: