Here's how Walmart, Target, and Dick's can end theft problems
Daniel Kline
Originally Published: September 30, 2023 1:26 p.m.
Walmart plans to reopen an Atlanta location with a police substation inside the store — an extreme response to the growing problem of retail theft.
And it's not an answer for the industry. 
Adding a police station to a store is not a solution that can be plausibly rolled out industrywide. It's a grandstanding move to bring attention to the problem, which has been sharply hurting a number of major retailers.
DON'T MISS: Another popular U.S. retailer files an unexpected bankruptcy
Target (TGT) - Get Free Report Chief Executive Brian Cornell has laid out the challenge between keeping employees safe and preventing theft. He also talked about how shrinkage — the industry term for theft — has pressured the company's profit margins.
His peer, Dick's Sporting Goods CEO Lauren Hobart, during the second-quarter-earnings call outlined some specifics about how shrink has affected her company.
"Based on the results from our most recent physical inventory cycle, the impact of theft on our shrink was meaningful to both our Q2 results and our go-forward expectations for the balance of the year," she said. 
Dick's Chief Financial Officer Navdeep Gupta called theft "a meaningful headwind which represents a third of our merchandise margin decline."
It was also fairly clear that like Walmart and Target, Dick's has struggled to figure out how to reduce theft while also keeping workers safe. 
"Shrink is an industry-level problem. It's actually, it's a problem for our entire country," Hobart said. 
"We are going to fight to the extent we can to keep our teammates, our athletes, and our stores safe, and that's with increased security, with lockup cameras, and working with local law enforcement and with our industry partners.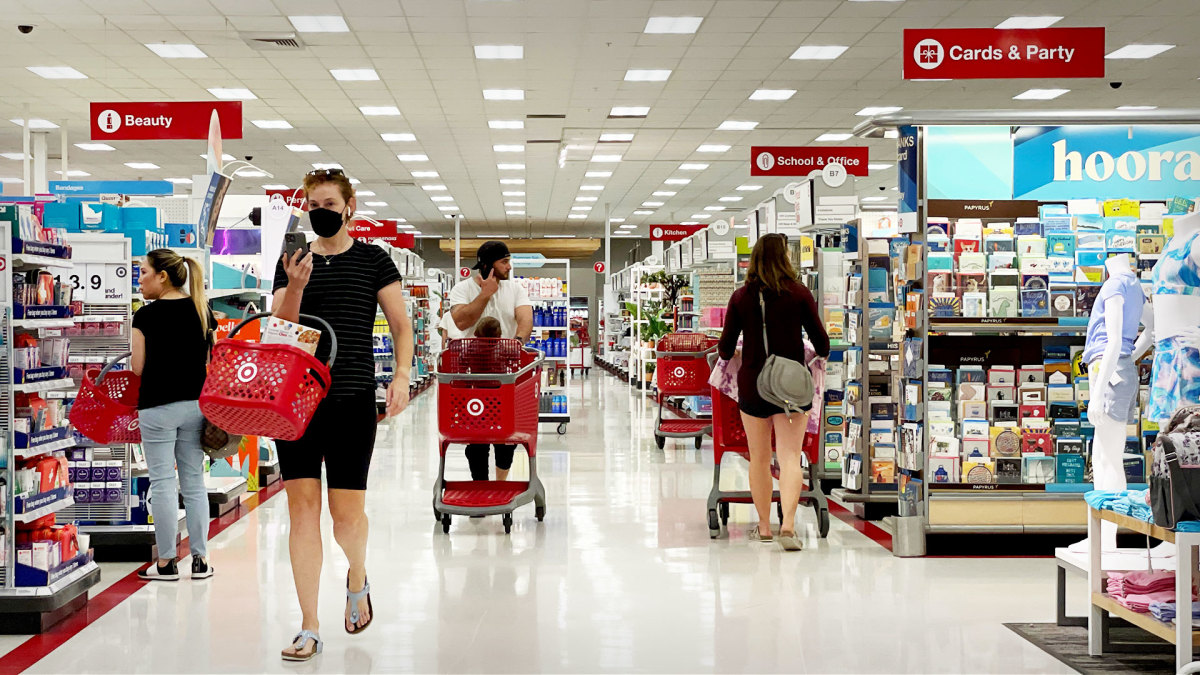 Here's where big retail stands on shrink
Walmart, Target and Dick's are not alone in sounding the alarm on theft.
Home Depot, Walmart, Best Buy, Walgreens, and CVS have also said that shrink has been a growing problem. That's not just political rhetoric; it's backed up by the latest Hayes International shrink survey, which covers 26 large retailers:
81% of retailers reported a shrinkage increase in 2022.
The number of shoplifters apprehended was up 50.9% with recoveries totaling $237 million, up 90.5%.
Dollars recovered from shoplifters where no apprehension was made was $485 million, which was up 44.1% in 2022.
So, while increased enforcement has had some success, shrink at big retailers has still increased significantly. 
TD Insights CEO Tony D'Onofrio, an expert in retail, security, and emerging technologies, believes he has the answer. 
Here's a real solution to the theft issue at Walmart, Target and Dick's
While D'Onofrio claims to know what will work to prevent retail theft, he also knows that one solution that Walmart, Target and Dick's have all used to some extent will not work.
"Locking up merchandise to reduce shrink reduces revenue and increasingly drives consumers to alternate retail models," he wrote on his website.
D'Onofrio says the multifactor answer to shrinking shrink is technology improvements, new laws, and industry partnerships with law enforcement.
"Retail technology solutions have not kept up with the growth of the problem," he said. 
He has the same opinion on the law. "The legal framework is stuck in the past and is not keeping pace with advancements outside the retail industry," he added.
D'Onofrio, however, does say that a solution currently exists and does not require extreme measures like locked-down stores or in-store police stations.
"To effectively tackle the problem of retail shrink, strong partnerships are needed across these boundaries, especially between retailers and law enforcement," he said. 
"The good [news: Successful] models are in place in various parts of the world, but it will take different more innovative thinking to evolve to broader global adoption," he shared.
Get exclusive access to portfolio managers and their proven investing strategies with Real Money Pro. Get started now.
---
Sign up for our e-News Alerts
SUBMIT FEEDBACK
Click Below to: