Royal Caribbean shares adult beach pricing details
Daniel Kline
Originally Published: September 16, 2023 12:46 p.m.
Royal Caribbean, Carnival, and MSC all use a similar business model. Customers buy a basic cruise fare that entitles them to their cabin, dining in the main dining room (MDR) and other select venues, access to entertainment, pools, and select other facilities.
What they don't get with a basic fare is a longer list. Drinks, both alcoholic and anything beyond the very basics, cost extra as does specialty dining. All three cruise lines also offer lots of other ways for passengers to spend money.
DON'T MISS: 2 things you can't do on a Royal Caribbean or Carnival cruise ship
Some, like shore excursions, seem fair, like they should cost extra because you're buying an experience. In other cases, people have accused Royal Caribbean, Carnival Cruise Line (CCL) - Get Free Report, and MSC of nickel and diming passengers. 
In many cases, people resent when something that was once included now costs extra or when prices go up. Both Royal Caribbean and Carnival have received negative feedback for eliminating unlimited lobster on cruises that have lobster nights. Both cruise lines now charge for servings beyond the first lobster tail, a major change from how things used to to work. 
Royal Caribbean (RCL) - Get Free Report, also recently raised prices in its Playmakers sports bar. These weren't small increases, most items went up by a few dollars. In many cases, it's not any one change that bothers people. It's more the cumulative idea that your cruise fare keeps giving you less despite rising prices.
Now, details have emerged about the new adults-only beach at Royal Caribbean's Perfect Day at CocoCay. That's a new section of the cruise line's private island, which is expected to open later this year.
The details, which include a hefty price tag, may surprise you.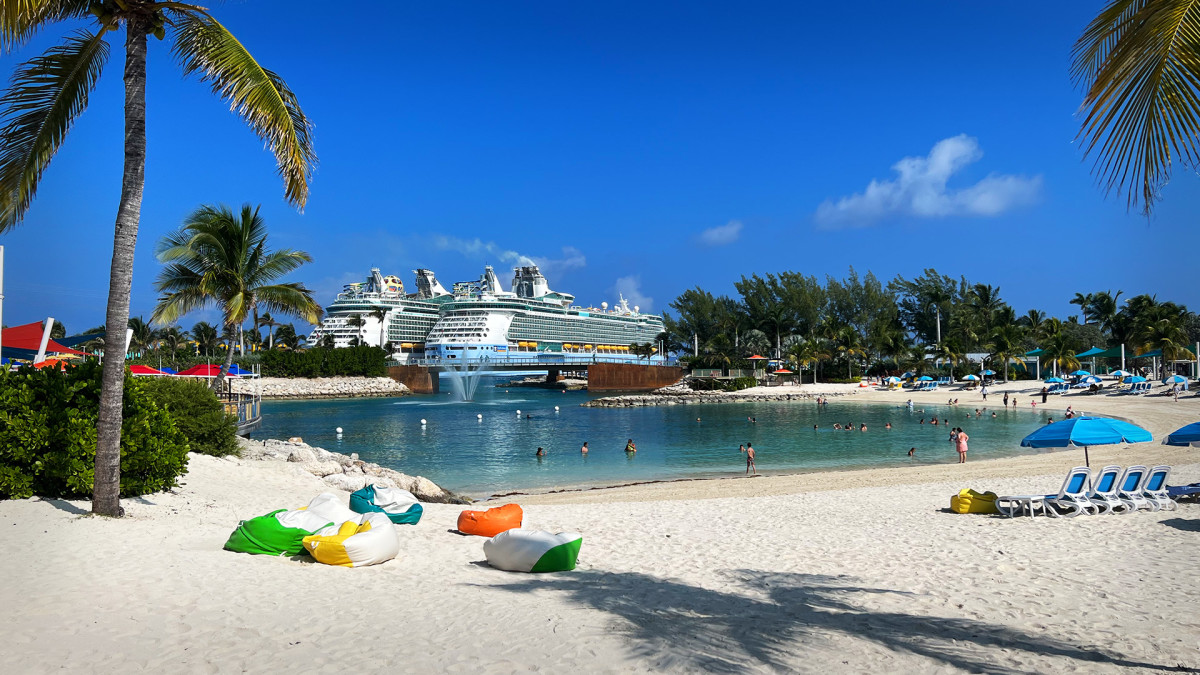 Perfect Day at CocoCay is a mix of free and added-fee options
Perfect Day at CocoCay has taken the traditional cruise line private island experience to a new level. Carnival and MSC both offer private islands, but they are basically just beaches with a BBQ lunch and bars.
Royal Caribbean's Perfect Day at CocoCay has beaches (a few of them) but also offers a massive swimming pool, and an extra-fee Beach Club and waterpark. Both the Beach Club, which offers a higher-end lunch, its own pool, and a dedicated beach, and the waterpark can cost more than $100 per person for a visit.    
It's important to note that there's a lot you can do at CocoCay for free. The pool, which is the largest in the Caribbean, and most of the beaches are included. There are also multiple kids' play areas, volleyball, and other games that don't cost an extra dime.
The cruise line, however, plans to add an adults-only area, Hideaway Beach, in the fourth quarter. Few details have been shared about that new section of CocoCay including whether it would cost extra, or be free like the adults-only Solariums on Royal Caribbean ships.
ALSO READ:
Hideaway Beach at CocoCay will cost you
It might have been too much to hope for to think that Hideaway Beach would be free. Royal Caribbean, along with Carnival and MSC, has definitely been leaning more toward added charges rather than giving people more for nothing.  
But, many people on social media were surprised that the new adults-only area, which features an infinity pool, higher-end dining options, and a Las Vegas-dayclub style atmosphere will come with an added. The extra cost, will be variable like Royal Caribbean's Beach Club at CocoCay.
Prices began popping up in people's "Cruise Planners," for cruises early next year. Some sailings were under $40 for admission while others were over $100 per person, per day. Hideaway Beach will accommodate between 1,500 and 2,000 guests.
Hideaway Beach, however, will cost less than admission to the CocoCay Beach Club, according to the Royal Caribbean Blog, which is not affiliated with the cruise line.
---
Sign up for our e-News Alerts
SUBMIT FEEDBACK
Click Below to: