Costco's fashion line is something Walmart's Sam's Club can't match
Daniel Kline
Originally Published: September 16, 2023 1 p.m.
Call Costco a cult of low prices.
The warehouse club has a singular mission built around delivering good value for its members. The focus makes it easy for the company to make decisions about how to spend its money.
DON'T MISS: Another iconic retailer survived bankruptcy but nears its sad end
If an expense does not directly correlate to offering lower prices to members, Costco (COST) - Get Free Report rarely spends the money. That's why the chain has no-frills stores with a digital presence that's 1990s or maybe 2000s, when rivals like Walmart and Target have heavily built around digital innovation.
Costco, however, is careful with its money, not cheap. The chain spends where it needs to and has always invested in retaining its employees by paying them at, or near, the top of the retail scale.
The warehouse club surely makes investments, but it has to see where spending money now will lead to happier customers paying lower than their rivals' prices.
Costco, for example, has invested heavily in building the infrastructure for its Kirkland Signature brand. The chain used to have roughly 30 brands covering all sorts of merchandise; they've been consolidated under the Kirkland Signature label. 
That lowered prices in numerous ways, including everything from packaging costs to not having to design and maintain 29 other brand identities. Now, Costco has seen Kirkland Signature — which has products in groceries, clothing, alcohol, and household items — grow into a $58 billion brand.
Members know that Kirkland Signature products are white-label offerings from some of the best manufacturers. They may not know which company made the Kirkland Signature pants or which distillery supplied the Scotch for Costco's house-labeled bottle, but they know the quality is there.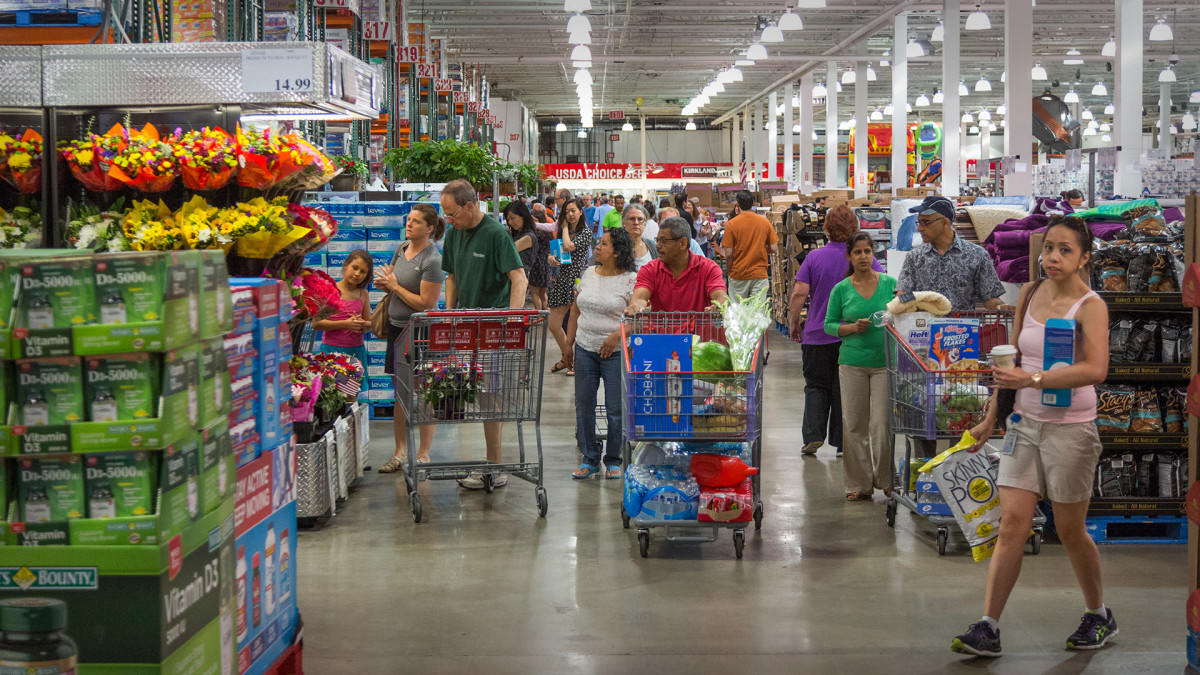 Costco has become a fashion trend
Kirkland Signature merchandise has become fashionable and trendy, according to TheStreet's Danni Button. And while Kirkland Signature merchandise tends to veer closer to utilitarian than trendy, people are tracking new merchandise releases on social media and some items quickly grow to hot sellers.
This isn't quite new Nike (NKE) - Get Free Report shoes dropping with long lines, first-day sellouts, and people flooding eBay to resell their pairs, but it's a growing trend. One of the social media fans on Reddit called the chain's new sweatshirt with a black-on-black logo of Costco's in-store brand Kirkland Signature "wholesale haute couture." 
Wearing Costco's house brand is a statement, and while some may simply find it fashionable, others are making an anti-fashion statement and/or showing their loyalty to the warehouse club. (Showing a 92.6% membership-renewal rate in the U.S. and Canada, Costco members are tremendously loyal.)
Costco has been leaning into the trend by making some of its new clothing releases as limited-edition offerings. And of course, to get in on the action, you have to be a member.
A warehouse club ahead of Walmart's Sam's Club
While Walmart's (WMT) - Get Free Report Sam's Club certainly has its loyal members, the chain has not managed to foster the kind of affection Costco members have for their warehouse club. That's something that is helping Costco in the fashion market, Global Data Managing Director Neil Saunders posted on Retailwire.
"Costco has a lot of fans and this, along with heightened activity on social media channels like TikTok, has made both the Costco and Kirkland brands hot fashion items. The products are also a statement against overly engineered, expensive high fashion – in that they are down-to-earth products from a brand known for representing everyday good value," he wrote. 
Kirkland Signature accounts for about 25% of all Costco sales. That makes it a clear differentiator compared with Sam's Club.
"Costco has earned the loyalty of its faithful customers by consistently delivering exceptional value – and the powerhouse Kirkland brand is part of the success equation," the retail expert and author Mark Ryski posted on Retailwire.
Action Alerts PLUS offers expert portfolio guidance to help you make informed investing decisions. Sign up now. 
---
Sign up for our e-News Alerts
SUBMIT FEEDBACK
Click Below to: