Here's what striking UAW auto workers want from the Big Three
Todd Campbell
Originally Published: September 15, 2023 9:39 p.m.
The United Auto Workers union is doing something unprecedented. Despite it's having been around for decades and enduring multiple strikes along the way, it's never simultaneously declared a strike against the so-called "Big Three" Detroit automakers, General Motors  (GM) - Get Free Report, Ford  (F) - Get Free Report, and Stellantis  (STLA) - Get Free Report, which owns the Jeep, Chrysler, and Dodge brands.
The walkout, which began Thursday night at midnight, initially targets three specific plants. However, if these automakers can't come to terms with UAW members, the strike will likely escalate, potentially jeopardizing vehicle availability and delaying plans to ramp up electric vehicle production.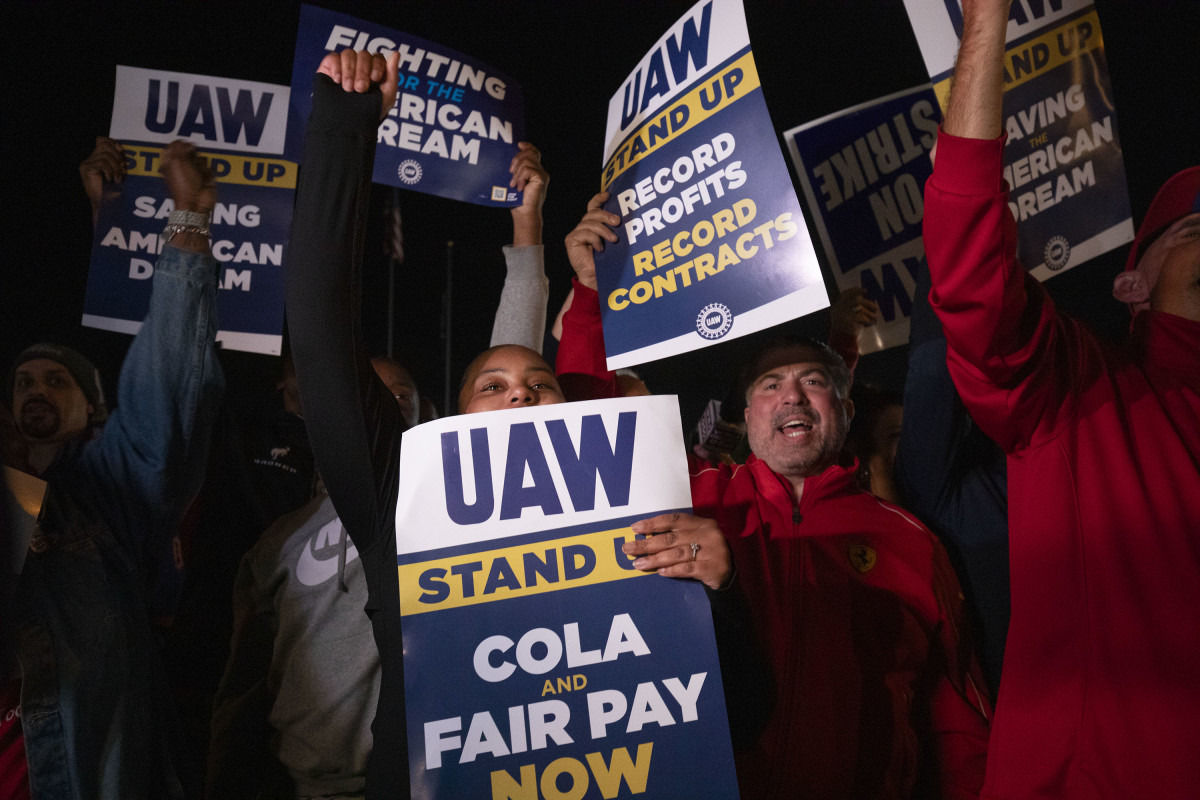 What's going on with the UAW strike?
UAW workers have been negotiating with GM, Ford, and Stellantis to ink a new contract in the wake of record profitability and amid stubbornly high inflation.
The UAW is far from the only union that's taken action to provide workers with more financial wiggle room. Last year, workers at Harley Davidson's  (HOG) - Get Free Report York, Pennsylvania facility negotiated a new 5-year contract that increased pay and did away with a two-tier wage system in which lower-tiered workers can earn up to $5 less per hour than higher-tier workers.
Related: Top analysts explain the real winner of historic UAW strikes (it's not the workers)
Airline pilots have recently successfully negotiated new contracts with United Air  (UAL) - Get Free Report, Delta Air Lines  (DAL) - Get Free Report, and American Airlines  (AAL) - Get Free Report, including significant pay increases. For example, the Allied Pilots Association announced American Airlines pilots successfully won a 21% immediate pay increase and a 46% compensation boost in a new four-year contract. 
Last month, American Airlines' flight attendants union voted to strike, escalating their negotiation with the airline for a new contract.
These deals are coming even as there's increased uncertainty caused by higher interest rates increasing recessionary risks. Nevertheless, many companies are still reporting record or near-record profitability.
For instance, General Motors reported revenue grew 25% year-over-year to $44.7 billion last quarter, resulting in a profit of $1.91 per share, up 68% from one year ago. Ford's revenue increased by 12% during the quarter. It earned $0.72 per share, up 6% from one year ago.
More labor stories:
Wall Street analysts largely expect those profits to continue throughout the year. They expect GM to report earnings per share of $7.75 this year, up 2% from 2022's record profits. Ford and Stellantis are anticipated to report $2.11 and $6.15 per share, up 12% and 5% from 2022.
What striking autoworkers want from automakers
Auto workers recently rejected an offer for 20% pay increases and more vacation time. Instead, they're looking to win a more significant increase in pay and benefits.
Specifically, UAW members want pay to climb by 40%, down from a prior 46% target, plus a reduced 32-hour workweek, eliminating pay tiers like Harley Davidson's workers received, and a return of cost-of-living adjustment payments to offset annual inflation.
The auto workers would also like to see a return of the pension system that previously benefited many auto workers before it was closed to hourly workers over a decade ago.
Overall, the UAW boasts 146,000 members. So, these won't be minor changes if auto makers agree to them. 
Ford's CEO Jim Farley said this week that costs associated with UAW members could soar if it agrees to the union's demands, potentially putting the company on a path toward bankruptcy. 
The UAW's President Shawn Fain responded to that by pointing out that the automakers would still pocket billions of dollars if they agreed to the union's terms. The companies made one quarter-trillion dollars in North American profits over the last decade, according to Fain.
So far, the strike involves 12,700 workers spread across Ford's plant in Michigan, a GM facility in Missouri, and a Jeep factory owned by Stellantis in Ohio. 
GM's CEO Mary Barra said she was "extremely frustrated and disappointed" that the strike is happening. She also said, "This will not be good for the economy overall, and especially in cities where these plants are located."
Barra made $29 million in 2022, Stellantis CEO Carlos Taveras made $24.8 million, and Farley earned $21 million. According to Ford, Farley's pay has increased by 18% between 2018 and 2022 — the least of the three.
In February, Ford paid UAW members $9,176 in profit sharing, and in September, it boosted wages for 8,000 workers under a previous 2019 contract.
The union says that if they cannot agree with the automakers, other workers elsewhere will join the picket line.
If so, that could be welcome news for Elon Musk's Tesla  (TSLA) - Get Free Report. Tesla's employees don't belong to unions, so it's likely to benefit from shifting electric vehicle demand away from Ford, General Motors, and Stellantis if the strike is long-lasting.
---
Sign up for our e-News Alerts
SUBMIT FEEDBACK
Click Below to: