Party City survives bankruptcy, but some locations will close
Daniel Kline
Originally Published: September 9, 2023 12:16 p.m.
Retail companies rarely survive a Chapter 11 bankruptcy filing.
In theory, when a retailer files Chapter 11, that move gives the company time to reorganize its finances. In practice what happens is that the company's vendors often move to a cash-only basis.
DON'T MISS: Walmart makes a first-ever change to prevent crimes in superstore
That creates a sort of cycle of failure. You can't sell what you don't have, and if you lack cash to put merchandise on your shelves you will never generate enough money to come up with a plan to pay down your debts.
That's essentially what has been happening at Sears for roughly the past decade. That once-mighty retailer sold off all its assets, like the Diehard battery brand and Craftsman Tools, to stay afloat, but it could not create enough cash flow to revamp its merchandise. That has led the company to where it stands, with a handful of remaining stores, sparse inventory and fairly empty shelves.
Escaping Chapter 11 has gotten harder now that interest rates are higher. That's because the loans a company needs to survive are much more difficult and expensive to obtain. That difficult environment contributed to the demise of Bed Bath & Beyond and Christmas Tree Shops.
Both those companies moved quickly from Chapter 11 to Chapter 7 liquidations when the funding to keep going simply wasn't there. 
Another large retailer, Party City, has escaped that fate as a U.S, bankruptcy court has signed off on a plan that will help the company emerge from Chapter 11 with about $1 billion less in debt.
The plan will not be without sacrifices for the the retail chain.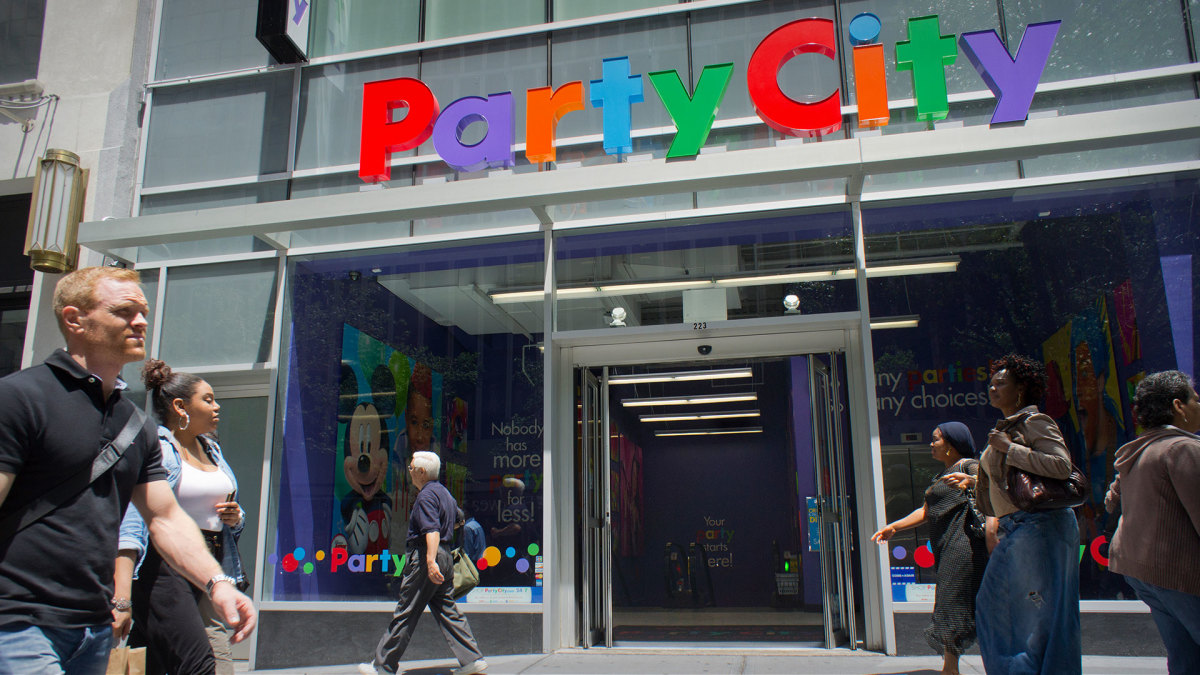 Party City hopes to party on
When it filed Chapter 11 in January, Party City had more than 850 U.S. locations. As part of the bankruptcy process, the chain was able to exit some unfavorable leases and closed more than 50 locations.  
The new owner, Party City Holdco, will exit Chapter 11 with new financing, a stronger balance sheet, and much less debt.
"Specifically, the plan provides for [Party City Holdco] debt to be reduced by nearly $1 billion upon emergence. [Party City Holdco] will move forward with a more profitable Party City store footprint, consisting of nearly 800 locations nationwide, after negotiating improved lease terms and exiting less productive locations during the Chapter 11 process," the company said in a news release. 
Under the court-approved deal, the new Party City will have an asset-based lending credit line of $562 million and $75 million of new investment to "fund distributions and payment of administrative claims under the plan as well as the company's operations upon emergence."
"With our debt substantially reduced and Party City store portfolio optimized, we will emerge better positioned to advance our strategic priorities, continue to innovate and elevate the consumer experience, and pursue new growth opportunities," Party City Holdco Chief Executive Brad Weston said.
Party City launches a new model
During its bankruptcy proceedings, Party City launched a new business model, or at least a test of one. The chain has borrowed a concept — stores-within-a-store — that has been key to the turnaround at Best Buy (BBY) - Get Free Report and Target's  (TGT) - Get Free Report reemergence as a leading brand under CEO Brian Cornell.
The party-supplies store has opened a location inside a Winn-Dixie supermarket called Celebrations by Party City.
"Located at the regional grocer's store in Apopka, Florida, the department offers items including helium and air-filled balloons, tableware, celebration decor, kid and adult birthday supplies, and piñatas," RetailDive reported.
Basically, since the supermarket already meets a lot of the needs for anyone throwing a party, this arrangement provides optimal convenience for consumers.
Get investment guidance from trusted portfolio managers without the management fees. Sign up for Action Alerts PLUS now.
---
Sign up for our e-News Alerts
SUBMIT FEEDBACK
Click Below to: