The ideal solution for seasonal storage is just $13 on Amazon after double discounts
Anthony Mastracci
Originally Published: October 1, 2023 9:30 a.m.
The Arena Media Brands, LLC and respective content providers to this website may receive compensation for some links to products and services on this website.
Transitioning seasons means rotating items like clothing, blankets, and even decor to make room for more weather-appropriate choices. It sounds easy enough, but closet avalanches are bound to happen to even the most skilled organizers.
The best solution for these seasonal swaps is using storage containers, and right now, some of the best ones from Fab Totes are nearly 70% off on Amazon.
Originally $42, the popular 6-pack of storage containers is just $22 right now — 48% off the original price. However, there's also an on-page coupon for an additional 40% off the 6-pack, bringing the total down to an unfathomable $13 before tax. With an Amazon Prime membership, your shipping will be free, and you'll get access to the upcoming Prime Big Deal Days.
Fab Totes 6 Pack Storage Containers, $13 (was $42) on Amazon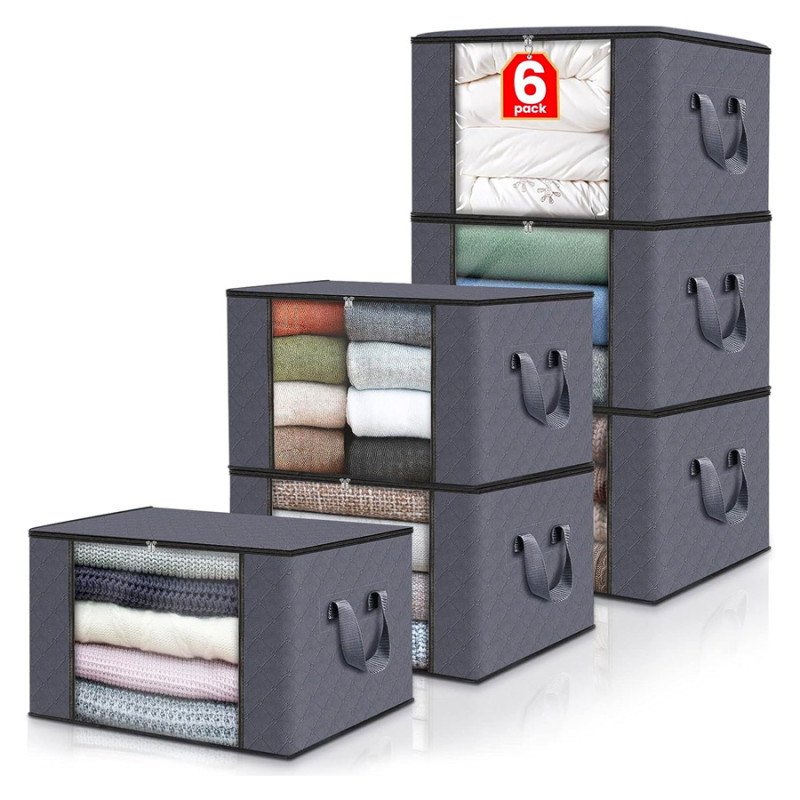 This storage container set boasts over 10,000 five-star customer ratings with an average of 4.3 stars out of five. They're made of a durable fabric with reinforced carry handles to prevent ripping and a strong stainless-steel zipper. They stack tighter than a deck of cards and collapse to store flat when not in use. But the winning factor here is the clear plastic window, a feature many other storage containers don't offer, making it easy to see what's inside without having to open everything up.
Each Fab Totes container is about the size of a medium cooler chest and has a capacity of up to, as the brand suggests, one quilt, three large blankets, or up to 25 pieces of clothing in terms of men's dress shirts. Specifically, each storage container is 21.65-inches long, 13.78-inches deep, and 12.4-inches tall. Beyond clothing and linens, these offer ample room for holiday decor, toys for children or pets, or one massive shoe collection.
While Amazon customers rave about quality, convenience, and usefulness, many have found these storage containers to solve different types of problems. Many use them for sheets and blankets; one customer even described how using them helped with a smell issue.
"I feel like my blankets and sheets always get tossed all over my shelves and become a mess, and also sometimes my sheets will pick up smells in the closet. I got these to store the items to keep them neat on the shelves and not toss all over the place," they said.
Another customer mentioned how helpful they are when moving, saying "My son used them for his move, now I'm using them for mine. Strong!" With a 6-pack, given the size, using them to move is a great idea.
This deal won't last forever, but it is one worth pursuing. At $13, after the 48% discount and the additional 40% off coupon at checkout, the Fab Totes 6-pack of storage containers just makes sense at an ultra-low $13.
Prices are accurate and items in stock at time of publishing.
---
Sign up for our e-News Alerts
SUBMIT FEEDBACK
Click Below to: