Here's when to avoid shopping at Costco
Daniel Kline
Originally Published: October 1, 2023 noon
Costco generally makes shopping pretty easy for members. 
The chain offers weekly deals and specials, but for the most part, on most staples and recurring household items you know you're getting a good price no matter when you shop. 
Prices change, but because the warehouse club has massive buying power with its vendors, most pricing remains consistent for weeks or months at a time.
DON'T MISS: Lowe's has an answer for Target and Walmart's theft problems
When you pay $60 for a standard Gold Membership, you get access to the chain's warehouse club. In exchange for that fee, Costco (COST) - Get Free Report has been vigilant about keeping prices down. Chief Financial Officer Richard Galanti elaborated on this point during the chain's third-quarter-earnings call.
"At the end of the day, if margins year over year were down 50 or 100 basis points [0.5 or 1 percentage point] back then, that implies that some portion of it, maybe instead of an 8% or 9% increase, our members were seeing a 6% or 7% or 8% increase," he said. 
"Whatever that was, we felt that we were doing as good a job as anyone out there given the item nature of our business to lower prices for our members and hopefully drive sales." 
Basically, Costco has shown itself willing to make less money in order to sell items cheaper than its rivals. That's true no matter when you visit the chain, but still there are important reasons that you might want to visit at certain times instead of others.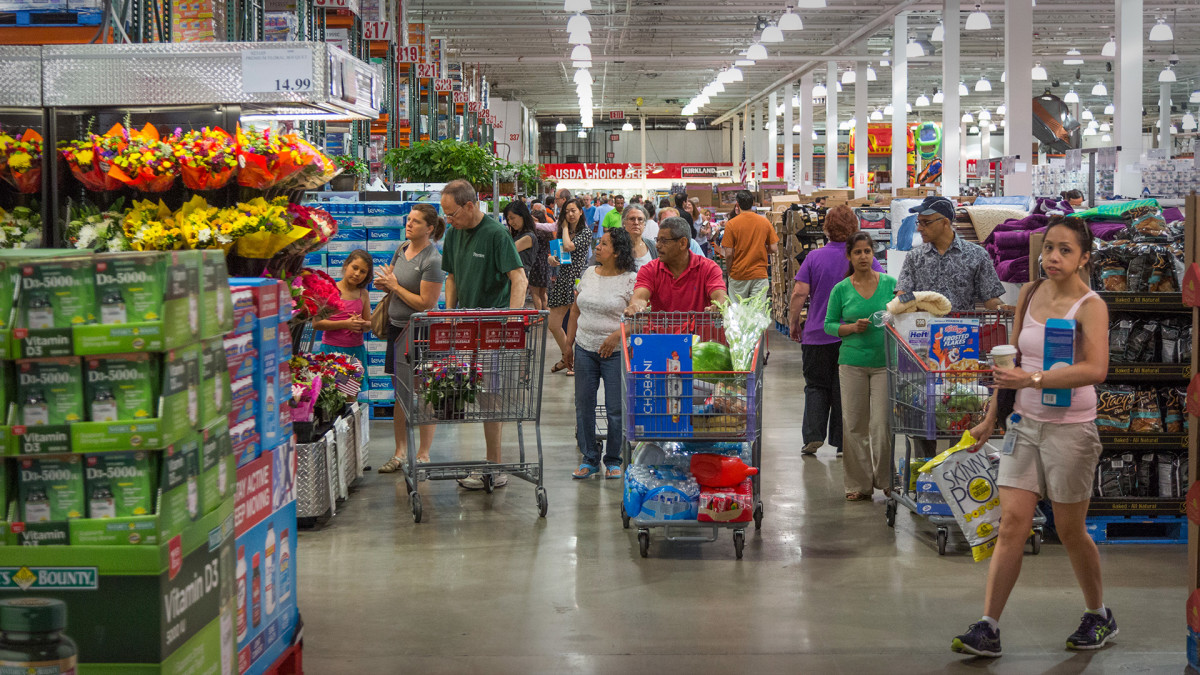 Costco has a worst time to shop
For many Costco members, a visit to one of the chain's warehouse is at least partly about entertainment. 
You might enter with a shopping list, but there's also the treasure hunt aspect of the chain where you never know what you might find at an amazing price. Costco also offers free samples, which for many shoppers add a layer of fun to a visit.
There's one clear time, however, when social media warn people not to visit Costco, according to TheStreet's sister publication Parade.
"There is no greater sensory hell than Sunday morning Costco," wrote u/motherconnoisseur in the Costco subreddit. "I'm still gonna brave the masses for that sweet, sweet $5 rotisserie chicken, though."
That's backed up by countless other posts on Reddit, although one poster did note that the problem is not unique to Costco.
"Sundays are the worst day to hit the grocery store, too — whole families blocking aisles [and] long lines. I stay away."
Costco explains how it keeps prices down
While Sunday mornings, and weekends in general, are busy times at Costco, the chain's buyers work ever day to keep prices down.
"I just know that our merchants and Craig and Ron and Claudine [Adamo], our head of merchandising, are pushing the buyers each day to do that and figuring out how can we take the monies that we get, any types of monies, from the vendors that can be used to drive business," Galanti shared.
The CFO said that Costco buyers have some advantages over their counterparts at rival chains.
"I think it's easier for us, on the one hand, that we do a lot of volume on a fewer items. We have buyers that literally are managing a couple of dozen items, not 200 items," he said. 
Costco will also do its pricing part.
"We're going to invest a little on price. How much are you willing to invest in price? So it's a partnership," the executive said. 
"And I think we are in a better position to do that simply because, if you take our $230 billion or $240 billion in sales and divide it by 3,800 SKUs, it's a lot more pricing power per SKU and a lot more focus on an item-by-item basis. So that's what we do."
---
Sign up for our e-News Alerts
SUBMIT FEEDBACK
Click Below to: