With historic new deals in hand, UAW auto union targets Tesla, other automakers
Ian Krietzberg
Originally Published: November 20, 2023 7:08 p.m.
The United Auto Workers union said Monday that it has officially ratified new contracts with each of the Detroit Three automakers. Across the three companies, about 64% of the union's nearly 150,000 members voted in favor of the contracts. 
The agreements include significant wage increases for members across the board, in addition to cost-of-living adjustments and the elimination of wage tiers.
Related: Another legacy automaker has a powerful response to UAW auto union threat
The union said in a statement that throughout the life of the agreement — which will expire in April 2028 — members will raises of at least 33%. Some of the lowest-paid workers will see raises ranging up to 160% by 2028. 
The union said that tens of thousands of workers will see immediate 40% raises. 
The UAW additionally won a three-year progression to the top pay rate at each of the three companies, a progression that previously took eight years. 
Related: After $8 billion success, auto union targets Tesla, other automakers
The union said it won electric vehicle commitments at each of the Big Three automakers, something that had been a point of contention during negotiations. All three automakers are set to make multi-billion-dollar plant investments. 
With the strikes done and the contracts ratified, the automakers are anxious to get back on track quickly. 
"Thankfully, we are on track to reach full production schedules in the coming days at our assembly plants in Michigan, Kentucky and Illinois that were affected during the strike," Ford CEO Jim Farley said Monday.
The ratification process was narrowest at General Motors  (GM) - Get Free Report, where the agreement passed with only about 55% of GM members voting in favor of it. The agreements at Ford  (F) - Get Free Report and Stellantis each passed with nearly 70% favorability. 
"The members have spoken. After years of cutbacks, months of our Stand Up campaign, and weeks on the picket line, we have turned the tide for the American autoworker," UAW President Shawn Fain said in a statement. 
Fain added that the strike against the Detroit Three was "just the beginning." 
Related: Elon Musk's Tesla has a new union problem on the heels of historic union win
The UAW takes on the auto industry
"The UAW is back to setting the standard," he said. "Now, we take our strike muscle and our fighting spirit to the rest of the industries we represent, and to millions of non-union workers ready to Stand Up and fight for a better way of life." 
Fain's latest comment builds upon previous statements in which the union president has said that "workers at Tesla  (TSLA) - Get Free Report, Toyota  (TOYOF) - Get Free Report, Honda, and others are the UAW members of the future."
Bloomberg reported last month that a UAW organizing committee was discussing the benefits of unionization with workers at Tesla's Fremont, California plant. 
After bringing its strikes to a close in October, the union broadened its horizon, saying in a statement that it hopes to return to the bargaining table in 2028 with "the Big Five or Big Six."
Hyundai, Honda and Toyota have all boosted workers' wages in an attempt to protect against the threat of unionization.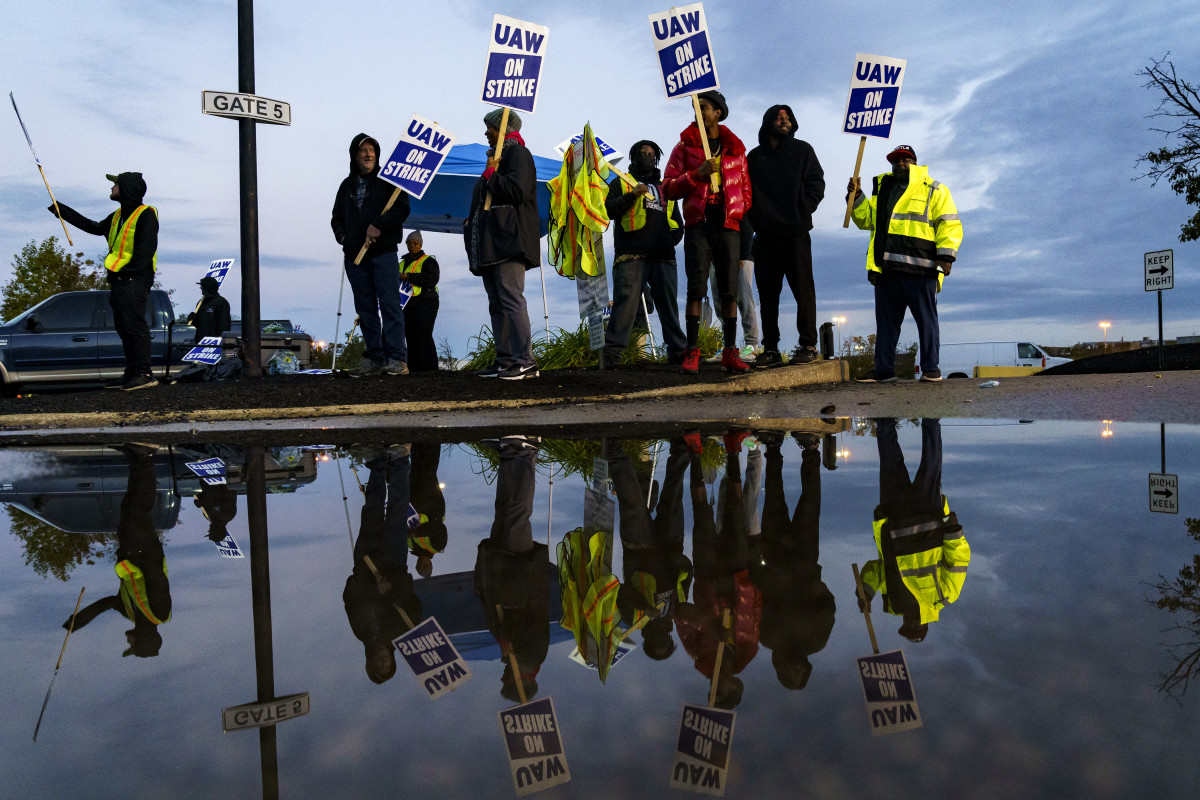 Fain said last week that the union was noting interest in unionization from Tesla workers. 
Tesla and its CEO Elon Musk have been staunchly anti-union for years. Musk has often tweeted against unions and unionization, criticizing the UAW's recent efforts not long after the strikes began. 
An appeals court found in March that Tesla illegally fired a worker involved in unionization efforts in 2017. 
A "union is just another corporation," Musk tweeted in 2022. "Far better for many companies to compete for your skills, so that you have maximum optionality."
Tesla additionally remains locked up in a dispute with Swedish union IF Metall, which is seeking better working conditions and wage increases. 
"We already offer equivalent or better agreements than those covered by collective bargaining and find no reason to sign any other agreement," Tesla told Sweden's TT News Agency last week. 
Tesla shares ticked down slightly Monday. 
Related: Investors have finally had enough of Tesla CEO Elon Musk
Get investment guidance from trusted portfolio managers without the management fees. Sign up for Action Alerts PLUS now.
---
Sign up for our e-News Alerts
SUBMIT FEEDBACK
Click Below to: