A Southwest Airlines holiday pilot strike just got a lot more real
Daniel Kline
Originally Published: November 11, 2023 3:49 p.m.
Last year, a winter storm caused Southwest Airlines' systems to crash. That led to a snowball effect that paralyzed the company's ability to schedule pilots, flight attendants, and airplanes.
Weather started the problem, but technology exacerbated it. It was a situation which exposed that Southwest Airlines LUV had neglected its investments in its infrastructure. That was something the airline's pilots were more than willing to call the carrier out for.
Related: Southwest Airlines quietly gets ready to make a huge change
The Southwest Airlines Pilot Association (SWAPA) shared a letter with media on Dec. 31 that blamed managements for the meltdown.
How did we get here? How did we go from the most stable and profitable airline in history to the greatest meltdown in airline history? As with most organizations, the answer can be distilled down to one word: Leadership. Actually, in our case, it's three words: Lack of leadership. While we continue to receive saccharine corporate-communications-department-written and legal-counsel-reviewed "we're sorry" and "I love you" meaningless and generic messages from SWA corporate executives, they obscure a genuine cancer within our company that has been an ever-growing existential threat that must be excised before it becomes terminal.
It's very rare that workers publicly take a stand against their own company, but Southwest's pilots had grown frustrated with their negotiations for a new contract. Since that letter, while SWAPA has acknowledged that the airline's $1.3 billion investment in technology will help solve some of last year's problems, it has remained focused on getting management to agree to a new contract.
Now, with the holidays approaching again, Southwest' pilots have made a meaningful step toward striking — a move that could wreck the holiday season for tens of thousands of passengers.
The Arena Media Brands, LLC and respective content providers to this website may receive compensation for some links to products and services on this website.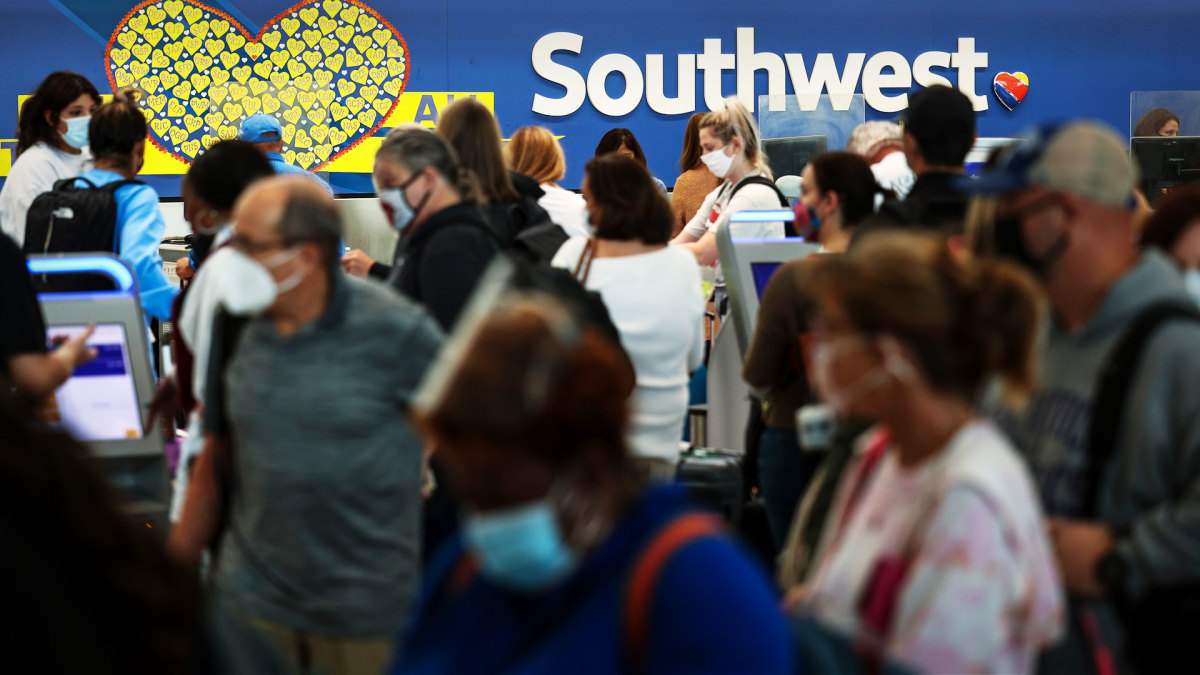 Southwest pilots move toward a strike
Airline pilots, it should be noted, can't strike simply because they want to. Southwest's pilots have voted to authorize a strike, but needs permission from the National Mediation Board in order to do so.
SWAPA asked to be released from mediation last summer after the union became "increasingly frustrated with Southwest's lack of commitment to negotiating in earnest and the pace of productivity during this negotiation cycle," according to a June SWAPA statement.
That request was denied, and both sides did return to the negotiating table. SWAPA, however, remains frustrated with the progress and has begun preparation to strike. That has included taking "its first official step toward a strike by opening a Regional Strike Center in Dallas," the union shared.
VEGAS? DISNEY? A CRUISE? HOW ABOUT AN ALL-INCUSIVE? Our travel partners can get you the best deals.
"While none of us wants to go on strike, we are preparing for that path because Southwest simply has not shown that it is willing to invest the time, energy, and money into creating a better experience for us nor our customers," said SWAPA President Captain Casey Murray. "As our negotiations linger and the holiday travel season approaches, we have to be prepared for a strike and that's exactly what we are doing with the opening of these centers."

SWAPA would need to be released from mediation and wait through a 30-day cooling off period before a strike would be legal.
Southwest addresses a potential strike
Southwest Airlines Executive Vice President Bob Jordan addressed a the labor situation with the company's pilots during its second-quarter earnings call.
"We are eager to reach agreements with all of our groups that have opened contracts right now. We're meeting very regularly with SWAPA and very hopeful for progress there," he shared,.
Jordan tried to downplay the possibility of a strike.
"You've heard about the strike authorization vote. Obviously, that is a NMB-defined process, mediation is a defined process. So, it's, I'd say there is no strike or an imminent strike. There are a lot of steps that would lead up to that," he said during the late-July call.
BOOK YOUR DREAM TRIP: It's a great time to reserve a Las Vegas, Disney, or cruise vacation.
SWAPA has clearly escalated the situation since then by opening the Regional Strike Center.
Murray has tried to make it clear that the union is not merely posturing.
"These centers are just another step in the process and a physical example of how far our pilots are willing to go to ensure that Southwest Airlines rights the ship," he said.
Investors, it seems, are keeping an eye on the situation, as well as the entire industry. Southwest shares fell 43% from a July peak to $22.23 on Nov. 1. The stock is up 4.2% as the stock market has rallied.
---
Sign up for our e-News Alerts
SUBMIT FEEDBACK
Click Below to: