Friday Catchall: In or out: citizenship, rodeo, Grand Canyon, 'Pearls'?

Originally Published: August 24, 2023 5:33 p.m.
The Friday Catchall: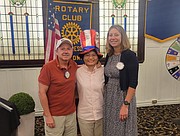 • NEW CITIZEN — It was a pleasure to celebrate the citizenship of a fellow Rotarian's wife this week at the Prescott Sunup Rotary Club's meeting.
Todd Clancy and Shiow Huey Chu Clancy have been married for more than 20 years; they met at the University of Nevada.
Shiow is from Taiwan, and on Friday, Aug. 18, in Phoenix, she took the Oath of Allegiance at her naturalization ceremony, promising loyalty to the United States.
The club's members honored her at breakfast, waving American flags. Mayor Phil Goode attended and said a few words too.
An amazing part of this was that, at the naturalization ceremony, 40 people — from 21 different countries — took the oath.
It makes your heart smile, folks.
Congratulations, Shiow.
• RODEO — Prescott Frontier Days, the organization that shepherds the "World's Oldest Rodeo," has been involved with area stakeholders — including neighbors, the City of Prescott, the state, and more — over a revitalization of the Prescott Rodeo Grounds and a $15.3 million state allocation.
Oh, how the rumors spread.
The latest is that PFD's president, Ron Owsley, has quit. Don't believe it. Here's the statement from the rodeo Board of Directors:
"To clarify recent events regarding the Prescott Frontier Days Board of Directors: Board President Ron Owsley has opted to forgo running for a second term in the 2023 October – Director Board Election. He will remain on the board as 'Past President' for several months thereafter. The impending re-zoning and potential future construction of proposed improvements will require a great deal more time than a part-time volunteer can provide. Ron intends to pursue involvement in those activities."
So, he's not gone, … wasn't pushed out, … hasn't hung up his spurs.
Relax.
He will continue to work with all entities and people involved; understand, he also has a life though.
• BEST — Ever wonder just how great the state of Arizona is? How about being home to the most sought-after, bucket list item?
Visiting natural wonders around the world is an experience for travelers. And, though beauty is subjective, guess which one has been dubbed the best?
Based on social media counts, Arizona's Grand Canyon is at the top of the list (garnering 4.25 million Instagram posts).
Second goes to Table Mountain in South Africa (1.28 million), followed by Halong Bay, Vietnam (1.17 million); the Great Barrier Reef, Australia (989,000); the Matterhorn, Switzerland (969,000); Cliffs of Moher, Ireland (693,000); and Arches National Park, U.S. (663,000).
The list goes on, but know that in our backyard is a world-famous natural wonder. Not going there occasionally is like living in Colorado and not visiting the mountains or Rocky Mountain National Park.
Sigh.
• COMIC — As I stated earlier this month, in the wake of the Dilbert comic strip's self-destruction, we replaced it with "Pearls Before Swine," which was the leader in our most recent readers' poll.
Some people do like it, others do not. And we've been running an online poll ever since, whether or not we should keep or replace Pearls.
Well, here are the results: 72% want us to keep "Pearls Before Swine," 27% said replace it.
Over three weeks of running the survey, and a good turnout, I think that's a clear message.
Thank you for taking part.
• PARTING SHOT — "Assumptions are made and most assumptions are wrong." ~ Albert Einstein.
Follow Tim Wiederaenders on Twitter @TWieds_editor. Reach him at 928-445-3333, ext. 2032, or twieds@prescottaz.com.
---
Sign up for our e-News Alerts
SUBMIT FEEDBACK
Click Below to: