City of Prescott 2023 Primary Election Results
Unofficial - as of 7:45 p.m.

Originally Published: August 1, 2023 7:51 p.m.
Updated as of Tuesday, August 1, 2023 7:58 PM
In the City of Prescott Primary Election, seven candidates are seeking five seats on the City Council, including the mayor, one two-year City Council seat, and three four-year seats.
The mayor's race is unopposed, with only incumbent Phil Goode running for the position.
This year's race includes a two-year term to choose a council member for the unexpired term vacated with the 2022 resignation of Jessica Hall. Councilwoman Connie Cantelme was appointed in 2022 to serve until the next city election, and she is running for the remainder of the term. She faces opponent Tony Hamer in the race.
Four candidates are seeking three four-year terms on the Prescott City Council. The seats are currently held by Council members Clark Tenney, Steve Sischka and Cathey Rusing. Tenney and Sischka chose not to run for re-election. Rusing is running as an incumbent; joining her in the race are Chad DeVries, Lois Fruhwirth and Ted Gambogi.
As of 7:45 p.m. Tuesday, Aug. 1, the unofficial results - as reported by Yavapai County Elections and the city - are: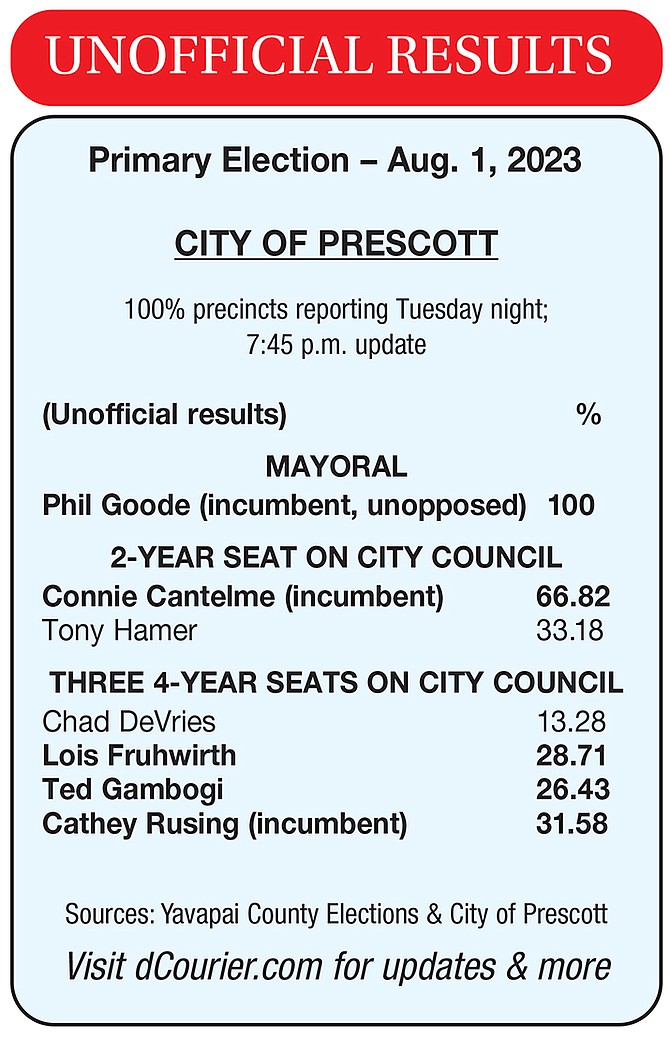 ---
Sign up for our e-News Alerts
SUBMIT FEEDBACK
Click Below to: