YCSO K-9 unit confiscates 56K fentanyl pills during traffic stop on I-40
#StopFentanylNow

Originally Published: June 23, 2022 1:31 p.m.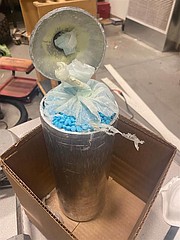 A Yavapai County Sheriff's Office (YCSO) K-9 unit found 56,000 fentanyl pills hidden inside a vehicle during an otherwise routine traffic stop on eastbound Interstate 40 Wednesday night, June 22.
During a vehicle search, a YCSO deputy found three fire extinguishers.
"Based on the interviews with the occupant and suspicious circumstances, the Deputy removed the extinguishers from the vehicle," a YCSO news release stated.
The deputy then deployed his K-9, Maximus, who "alerted" the deputy to the odor of narcotics. Based on the K-9's alert, the deputy confiscated the evidence and opened the extinguishers, where he found the fentanyl pills.
The unnamed driver was arrested and booked into Yavapai County jail.
SUBMIT FEEDBACK
Click Below to: