Prescott July 4 fireworks celebration to take place at Watson Lake

Originally Published: June 20, 2022 9:26 p.m.
Updated as of Monday, July 4, 2022 10:17 AM
A family-friendly celebration, complete with fireworks, live music, water slides, and food and drink, is on tap for the July 4 holiday.
As it has for the past several years, the event will take place at the Watson Lake Park, 3101 Watson Lake Road, just off Highway 89.
The celebration will begin at 3 p.m. Monday, July 4, with fireworks expected to take place around 9 p.m.
The event is expected to go on despite the current drought conditions, and officials say plenty of precautions have been taken to guard against fire danger.
Prescott Recreation Services Director Joe Baynes notes that the city lessened its risk of wildfire from fireworks when it began conducting the show over Watson Lake about four years ago.
"The biggest thing is the fallout zone is the lake," Baynes said Monday, June 20, adding that the water setting significantly mitigates the fire risk.
Deputy Fire Chief Thomas Knapp added, "There's a reason we moved the fireworks to Watson Lake — the fallout zone is all within the water."
Still, Knapp said the Fire Department has plans for dealing with various weather conditions. For instance, he said, "We don't launch if there's high winds." The department will also have ground-forces resources on hand during the fireworks show.
The city's Special Events Committee conducted a meeting earlier this month to finalize the event details, including the traffic scenario on Highway 89. Baynes pointed out that the traffic details have been adjusted over the past four years, and he said, "We feel like we have a solid plan in place."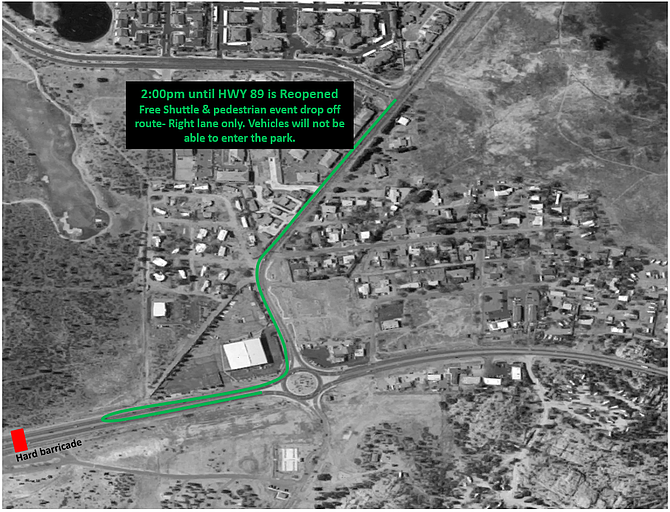 The city released the finalized event details in a news release on Monday. They include:
STREET CLOSURES
• Crews will begin closing off Highway 89 between the Willow Lake Road roundabout and Prescott Lakes Parkway at 1 p.m., Monday, with full closure by 2 p.m. The closure will be in place until after the fireworks show.
• The road will re-open as soon as the area is safe for traffic. (See city maps for details).
• At 9 p.m., side roads off of Willow Lake Road will be directed for west-bound turns only onto Willow Lake Road.
EVENT INFORMATION
• Gates will open at 2:45 p.m. for entry into the event.
• There will be a variety of family-friendly activities, including live music, water slides, inflatables, games and activities. In addition, a beer garden will be available for those 21 and older.
• There will also be food vendors with a variety of options available.
• The 108th U.S. Army Band will be performing during the fireworks celebration.
• There is a $5 general admission fee.
• Unlimited inflatable pass pre-sale tickets are available for $25 (general admission included). Passes at the door will be $30.
• All general admission tickets and passes can be purchased at https://prescottevents.ticketspice.com/2022-prescott-july-4th.
• All parking fees, general admission fees and wristband fees will be cash-only on the day of the event.
PARKING INFORMATION
• Parking at Watson Lake is limited, and first come first served, for a $20 fee.
• Ample handicap accessible spaces are available at the Watson Lake area, also for $20 fee.
• Once Watson Lake parking is full, overflow parking will be directed onto Highway 89 within the closure area. Guests may exit their vehicles and enter the event, however all vehicles must be removed from the highway no later than 11 p.m.
• All vehicles parked on the highway must exit south-bound to Prescott Lakes Parkway.
• Free parking is available at Pioneer Park, 1200 Commerce Drive, with free shuttles running to the event, between 2:45 p.m. and 8:30 p.m. Shuttle service will resume back to Pioneer Park after the fireworks show.
WATSON LAKE CLOSURE
• The south (lower) boat ramp will be closed beginning at 1 p.m. on Sunday, July 3, due to preparations for the event.
• Watson Lake will be completely closed to the public on Monday, July 4 from 6 a.m. to 2:45 p.m., when the event opens.
OTHER DETAILS
• The city asks that visitors observe a number of restrictions, including: No coolers, no canopies, no backpacks (open tote bags are OK), no outside liquids, no outside food or drink (with the exception of one unopened and sealed bottle of water per person is allowed), no barbecue grills, no animals, no firearms, no outside fireworks.
• A free hydration station will be available inside the park for water refills.
• Lawn chairs and umbrellas for shade are welcomed, blankets encouraged. All bags are subject to search.
• Attendees are urged to bring a flashlight to navigate after the fireworks show.
More information about the fireworks event is available at https://prescott.events/.
Follow Cindy Barks on Twitter @Cindy_Barks. Reach her at 928-445-3333, ext. 2034, or cbarks@prescottaz.com.
SUBMIT FEEDBACK
Click Below to: