Crooks Fire spreads to more than 8,000 acres, but containment back up to 20% April 27
Originally Published: April 27, 2022 9:34 a.m.
The Crooks Fire, 11 nautical miles south of Prescott, spread to about 8,018 acres April 26, but containment rose to 20% a day after it had been reduced due to high winds, the Prescott National Forest reported in a news release the morning of April 27.
"On Tuesday [April 26], a combination of southerly winds and difficult terrain hampered firefighting efforts," the release stated. "Wind gusts up to 25 mph created wind driven runs, moving fire across [Forest Service Road] FSR 81. Upper-level winds also continued to push smoke into surrounding communities."
The blaze, burning timber and chaparral on the Bradshaw Ranger District near Mt. Union, started April 18, and its cause remains under investigation, forest officials added.
Prescott National Forest currently has 786 personnel assigned to fight the fire. Resources engaged in the firefighting efforts include seven Type 1 Hotshot crews, five Type 2 Hand crews, 41 engines, 13 helicopters, miscellaneous equipment and overhead.
"Despite increasing acreage, crews were able to increase containment [of the Crooks Fire] from 16% to 20% and complete line construction from Moscow Peak west to Senator Highway," the release stated. "In addition, teams performed prep work on the north and east perimeter of the fire."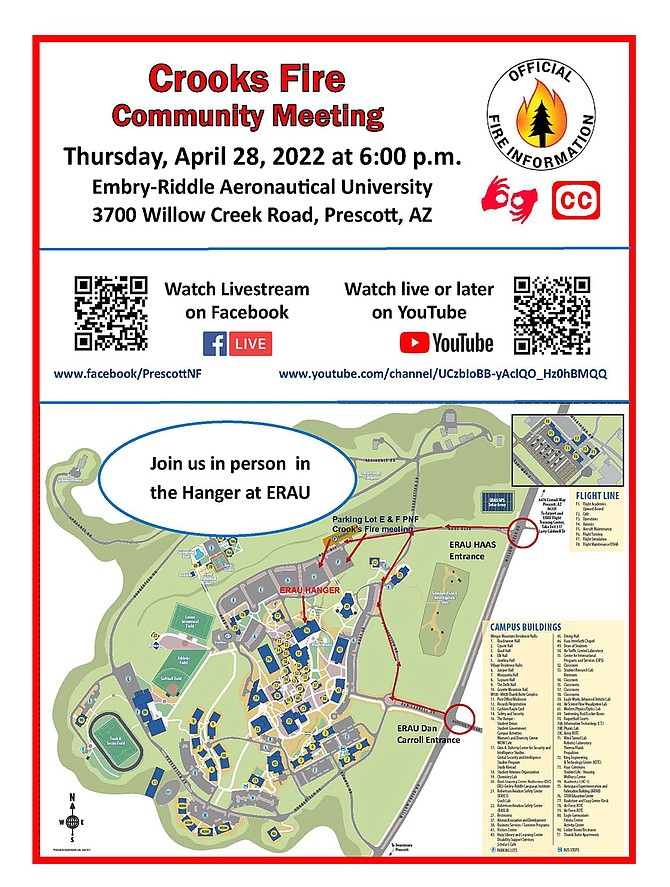 The release added that firefighters' tactical objectives for April 27 were to improve containment efforts made to the north and east of the fire. Ground crews, supported by dozers and aircraft, will work south of Lookout Mountain and along Forest Service Road 81, the release stated.
"Remaining firefighters will continue structure protection and be available for deployment to any area of need," the release added. "An additional Helitack base [a base used for helicopters transporting firefighters to a fire scene] has been established, which will provide for faster turnaround times and increased support of ground crews on the south end of the fire."
What follows is more information about the weather's impacts on the Crooks Fire, as well as smoke conditions, evacuations, forest closures and a third, forthcoming community meeting about the fire.
Weather: Dry conditions continue throughout the area, with humidity in the teens to single digits. Winds out of the southwest will blow at 15-20 mph, with gusts up to 30 mph producing "near critical fire weather," the release stated.
Smoke information: Residents should be aware of increasing smoke in the area because of winds from the south. Residents can monitor current conditions for the Crooks Fire on the Arizona Smoke Forecasting system at bit.ly/3ODx7r1.
Evacuations: Yavapai County Sheriff's Office (YCSO) announced that several areas have moved from "Ready" to "Set" status for evacuations. For more information, residents should visit YCSO's Facebook page at facebook.com/YavapaiCountySheriff/.
Forest closure: To protect public health and safety due to firefighting operations and fire danger associated with the Crooks Fire, Prescott National Forest officials have implemented a fire area emergency closure. To read the Crooks Fire area closure order and to view a map of the area, visit fs.usda.gov/alerts/prescott/alerts-notices.
Community meeting: At 6 p.m. Thursday, April 28, Embry-Riddle Aeronautical University, 3700 Willow Creek Road in Prescott, will play host to a community meeting about the Crooks Fire.
Residents may attend the meeting in-person at the Hangar in ERAU's Building 16 or online via a Facebook Livestream at facebook/PrescottNF. Residents may also watch the meeting live or on replay on YouTube at bit.ly/36SybGl.
SUBMIT FEEDBACK
Click Below to: