18th annual Mile High Marching Band Invitational to feature Pride of Prescott
Prescott High School will host event Saturday

Originally Published: September 28, 2021 8:34 p.m.
What better way to spend a crisp, fall Saturday night in Prescott than outside on the Prescott High School Bill Shepherd Field where community spectators can watch the Pride of Prescott Marching Band and seven others from across the state perform their half-time shows with musical and dramatic flair?
All for just $10.
From 5:30 p.m. to 8:30 p.m., Prescott's marching band and color guard – flag and rifle twirlers - and the seven other high school programs will dazzle spectators with their music and precision, well-choreographed moves that are performed as their half-time shows this band season. So all in all, spectators will see eight half-time shows as part of the festival.
The Pride of Prescott Latin-themed half-time show last week was showcased for the Las Fuentes Resort Village. The residents were delighted by the pageantry and music for the program titled "Ritmos De Passion." That performance was the first time this year's band performed with their blue and black uniforms and the Color Guard donning their bright orange and turquoise uniforms and flags.
In addition to performing for the community, all the participating bands will be competing and judged by the Arizona Band and Orchestra Directors Association. The judging will begin at 5:30 p.m. Organizers recommend for parking to arrive about an hour before the invitational is to begin.
If you come hungry or thirsty, the PHS Band Boosters assure there will be concession stands available.
PHS Marching Band Booster President Lisa Dachenhausen hopes this event will expose attenders to the value of this extracurricular program that benefits not only students and faculty, but the residents of the entire community.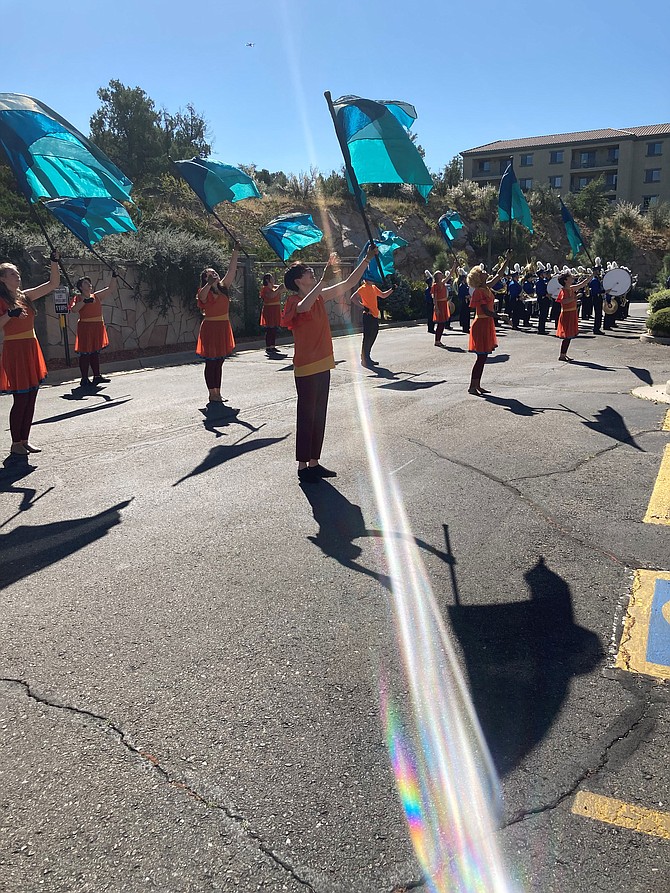 In a fundraising letter, Dachenhausen wrote that educational research has proven that "extracurricular activities have numerous positive effects on our students – respectful behavior, better grades, increased school completion, motivation to become successful adults, and the valuable social aspect of these activities create productive and engaged community members.
At Las Fuentes, Prescott High's marching band appearance peaked nostalgia for many residents who enjoyed reflecting on their introduction to musical instruments and their high school marching band performances.
These community-attended program fees are beneficial to help support the entire high school musical program, including the Jazz Band, Wind Ensemble, Symphonic Band, Orchestra and Color Guard, Dachenhausen said. What is about a $60,000 program receives no direct school funding, but rather depends on student fees, this type of community event and financial donations to support them, she noted.
"The main goal of our Boosters Organization is to promote musical excellence in our high school students through this very important extracurricular activity," Dachenhausen said. "These funds enable us to offset competition fees, fix and replace instruments, purchase music, provide scholarships and awards, clean and replace uniforms, and pay for travel expenses for the various musical groups throughout the school year."
Anyone wishing to support the band beyond attendance to this festival can do so by check to the Prescott High School Band and Orchestra Boosters, P.O. Box 10651, Prescott, Az. 86304-0651. All donations are tax-deductible and the band's federal tax number is 86-0728520.
SUBMIT FEEDBACK
Click Below to: